Basketball Leagues
Need A Place To Play Basketball?
Body Zone offers basketball leagues year round on our hardwood court with professional-style baskets in a climate controlled facility. Take advantage of our online tools that include player scoring stats, scores, schedule and standings. Basketball leagues are offered for winter, spring, summer and fall sessions.
---
QUICK LINKS:
Registration
|
Details
|
Schedules and Standings
|
League Contact
---
Upcoming Basketball Leagues Registration
Fall I 2018

Registration Deadline: September 9, 2018


Sunday Men's League
9/16, 9/23, 9/30, 10/7, 10/14, 10/21, 10/28, 11/4, 11/11 bye week or Playoff, 11/18 or 11/25/18 championship
Register Online
Monday Men's Ages 40+
9/17,9/24,10/1,10/8,10/15,10/22,10/29 11/5, 11/12 bye week or Playoff, 11/19 or 11/26/18 championship
Register Online
Wednesday Men's Ages 30+
9/19, 9/26, 10/3, 10/10, 10/17, 10/24, 10/31, 11/7, 11/14 bye week or Playoff 11/21 or 11/28/18 championship
Register Online
Saturday Small Man's 6'2″ and Under
9/22, 9/29, 10/6, 10/13, 10/20, 10/27, 11/3, 11/10, 11/17 bye week or Playoff 11/24 or 12/1/18 championship
Register Online
Cost:
$360.00/team plus referee fees ($27 a game)
$150.00 deposit
Full payment is due by first game
Register by clicking the buttons above or call 610-376-2100.
---
Basketball Leagues Details:
League Details:
Sunday – all players must be male and 18 or older for both divisions
Small Man's – all players must be 18 or older and 6'2″ tall or shorter
Men's 30 + – all players must be male 30 or older
Men's 40 + – all players must be male 40 or older
Men's 50 + – all players must be male 50 or older
Small Man's League players whose height is in question will be measured with sneakers off
Six-game regular season schedule
Top four teams make playoffs if leagues fields four-nine teams; top six if league fields 10+ teams (expanded playoffs). In a six-team situation the #1 and #2 seeds get a bye while #3 plays #6 and #4 plays #5. The winner of 3-6 and 4-5 games may have to play the #1 or #2 seed as a doubleheader the same day.
Body Zone pays ref fees for semi-finals and finals (quarter final fees included depending on teams participating in the league).
*If fee is not paid in full by the third game of the season, your team will be removed from the league and schedule will be revised.
Basketball League Tools
Basketball League Amenities
Online schedule, scores and standings, plus player scoring stats
Scoreboard and clock operator
Team awards for champions
Reschedule Fees
$25 by team initiating the change. Must be requested 48 hours or more prior to the game and paid before next game. Changes within 48 hours result in a forfeit and that team having to pay ref fees for both teams for the cancelled game.
---
Schedules & Standings
---
For More Information, Contact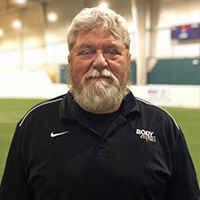 Doug Miller
Assistant Director of Sports
610-376-2100 x 453