Community Wellness Programs
Wellness begins with making the commitment to live a healthy lifestyle. Body Zone will help you every step of the way with a variety of programs and classes for individuals and groups many of which are open to the public.  Not a member?  Experience our fitness and aquatics centers with our free 7-Day Pass!
Quick Links:
De-stress: The Power of the Positive Mind
Heart Rate Training + Your Fitness Goals
"Tough as Nails" Self-Defense Course For Women and Teen Girls
Complimentary Blood Pressure Screening
Your Way to a 5K Group Running Program
---
De-stress: The Power of the Positive Mind
A Body Zone Lunch & Learn Event
You've heard it time and again: focus on the positive! It's believed that humans have a predisposition to negativity — that we're wired for pessimism. But did you know that positive and optimistic people tend to have healthier lifestyles? Join Lori Kunkle, RN, MSN to learn tips and methods for harnessing the power of a positive outlook to help us deal with stress. Stress has a huge impact on our physical and emotional health but the good news is that we can learn how to manage it in a lasting and more optimistic way.
| | |
| --- | --- |
| Date/Time: | Tuesday, July 24, 2018 |
| Fee: | $5 for members / $10 for non-members |
| Location: | Party Zone meeting room on Body Zone's main level |
| Register: | HERE or in person at Guest Services (610-376-2100) |
About Lori Kunkle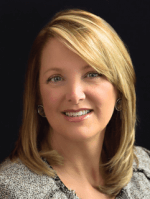 Lori Kunkle, RN, MSN is the Senior VP of Clinical Wellness with Power Kunkle Benefits Consulting Group. Lori joined Power Kunkle in January 2014. She received her Bachelor of Science in Nursing from Alvernia University and her Master of Science in Nursing Administration from Cedar Crest College, Allentown. Lori has 14 years of nursing experience in emergency medicine and four years of experience as a Corporate Wellness Practitioner.
---
Heart Rate Training + Your Fitness Goals
Benefit from the rewards of tracking your exercise intensity! Whether your fitness goal is to lose weight, maximize performance or improving your health, heart rate training is an effective way to gauge your intensity during a workout.
Join BZ Trainer Dave Moseley to learn how to incorporate heart rate training into your overall health and fitness goals. He'll show you how to assess and identify your target heart rate and give you tips for a proper warm up, cool down and much more.You'll get the most from your workouts if you're exercising at the proper exercise intensity for your health and fitness goals.
| | |
| --- | --- |
| Date/Time: | Wednesday, July 25, 2018 / 5:00 PM |
| Fee: | Free for members / $5 for non-members |
| Location: | The Wellness Studio on Body Zone's main level |
| Register: | Sign up at Guest Services or email Dave Moseley |
---
"Tough as Nails" Self-Defense Course For Women and Teen Girls
Next session begins Thursday, September 20, 2018
Learn concepts and skills to help you develop important and empowering self protection strategies in this popular and successful eight-week series for women and teen girls. The course offers hands-on learning, practice and reinforcement of effective and easy-to-remember self-defense techniques along with the use of state-of-the-art equipment to help reduce the likelihood of becoming a victim of an attack. Learn more / Register
---
Blood Pressure Screening
A complimentary service for members



High blood pressure is an easy disease to overlook. There are often no visible signs or physical symptoms. Because of this, it's important to have your blood pressure checked and tracked on a regular basis.
---
Your Way to a 5K Group Running Program
Your Way to a 5K is back with another eight-week, beginner-friendly group running program designed to help you learn how to run the right way. Discover a love of running by learning about good form and breathing techniques. Develop a running plan and goals and learn how to stay motivated. The program also addresses proper gear, nutrition, hydration and stretching techniques.
Participants will show what they know by participating in fundraising race to be determined before registration goes live for our spring session.
Program prerequisite: Participants must be able to walk a brisk pace for 30 minutes
| | |
| --- | --- |
| Dates/Times: | Check back for Spring 2017 dates and info |
|  Fee: | $100 – includes free access to Body Zone's fitness center and pool during eight-week class |
| Location: | Body Zone and outdoor areas TBD by instructor |
| Instructor/Coach: | Lisa Leayman, BZ personal trainer |
About Lisa Leayman
Lisa is a Body Zone personal trainer and an avid and competitive distance runner. For the past 20 years, Lisa has competed in numerous half marathons, triathlons, duathlons and endurance adventure races. As a member of the Pagoda Pacers Athletic Club, Lisa embraces her passion for running by volunteering, promoting and coaching. She brings this vast experience to her individual clients at Body Zone and her current cross country athletes. Her programming is designed with all levels in mind from the experienced distance runner to the beginner. Learn more about Lisa here.