Community Wellness Programs
Wellness begins with making the commitment to live a healthy lifestyle. Body Zone will help you every step of the way with a variety of programs and classes for individuals and groups many of which are open to the public.  Not a member?  Experience our fitness and aquatics centers with our free 7-Day Pass!
It's Not About The Carrots
eBite by Aparna Mele, MD
"Tough as Nails" Self-Defense Course For Women and Teen Girls
Blood pressure screenings
---
It's Not About The Carrots
When did we stop loving our bodies? Why is it so hard to do what we know we should be doing to get healthier? Why do we resist making change even if we know it will help us to be our happiest, most energetic selves?
Join Suzie Carpenter, BZ member, health coach, speaker, food writer and snack food entrepreneur, for an empowering hour to help guide you towards creating a mindset shift in how you view healthy eating. In addition, you'll learn secrets around a nourishing lifestyle you'll love and tips and tricks to make healthy eating easy and amazingly delicious.
Date: Wednesday, May 17, 2017
Time: 6:30 – 7:30 PM
Location: The Wellness Studio on Body Zone's main level
Fee: FREE FOR MEMBERS
Register: At Guest Services (610-376-2100) or email Debbie Stiller
About Suzie Carpenter and On The Bright Side: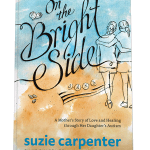 Suzie Carpenter's mission is to love the world back to health. She is a pioneer in the clean eating movement and focuses her work on how to help people harm themselves less with food. Suzie's workshops are sought after by companies who want to inspire and motivate employees to embrace a healthier lifestyle. She also teaches cooking classes, runs detoxes and offers health coaching to individuals and families — learn more at suziecarpenter.com
In December of 2016, Suzie published her first book, On the Bright Side: a Mother's Story of Love and Healing Through Her Daughter's Autism, which quickly became an Amazon Best Seller. Purchase your copy and get it signed by Suzie after the program.
---
eBite
Sign up here
Power up your nutrition wisdom with nutrition tips, inspiration and special recipes when you sign up to receive Body Zone's eBite by Aparna Mele, M.D. and My Gut Instinct.
About Aparna Mele, M.D. and My Gut Instinct
Aparna Mele, M.D. is a board certified physician with Digestive Disease Associates in Wyomissing, PA since 2007, and the only female gastroenterologist in Berks. Dr. Mele came to the field of medicine with extensive experience in performing international relief work overseas and is actively involved in local philanthropic work directed towards patient education and promotion of societal health.
She is the founder and president of a non-profit organization called My Gut Instinct, through which she is implementing local initiatives to empower community members to learn how to live healthier lives. My Gut Instinct holds a free-for-the-community, annual health and wellness expo every fall, entitled Guts and Glory Digestive and Wellness Expo and taking place October 7, 2017.  For more information, refer to her website at www.mygutinstinct.org.
---
"Tough as Nails" Self-Defense Course For Women and Teen Girls
Learn concepts and skills to help you develop important and empowering self protection strategies in this popular and successful eight-week series for women and teen girls. The course offers hands-on learning, practice and reinforcement of effective and easy-to-remember self-defense techniques along with the use of state-of-the-art equipment to help reduce the likelihood of becoming a victim of an attack. More / Read what participants are saying
---
Blood pressure screenings
A complimentary service for members

High blood pressure is an easy disease to overlook. There are often no visible signs or physical symptoms. Because of this, it's important to have your blood pressure checked and tracked on a regular basis.
| | |
| --- | --- |
| Dates: | |
| | April 24 |
| | May 8 and 22 |
| | June 5 and 19 |
| Times: | 9:30 – 10:30 AM & 5:30 – 6:30 PM |
| Location: | Aquatics Lobby |
| Administered by: | Allison White, RN |