Community Wellness Programs
Wellness begins with making the commitment to live a healthy lifestyle. Body Zone will help you every step of the way with a variety of programs and classes for individuals and groups.
Heart Month programs at Body Zone
Your Way to a 5K Group Running Program
Weekly eBite by Aparna Mele, MD
"Tough as Nails" Self-Defense Course For Women and Teen Girls
Blood pressure screenings
---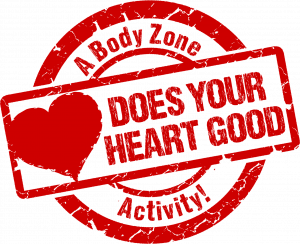 February is American Heart Month!
Heart disease is the leading cause of death for men and women in the United States. Every year, about 610,000 people die from heart disease, that's one in every four deaths.
But there's good news! You can help prevent heart disease by making healthy choices and managing any health conditions you may have. And, as a member, you're most likely taking advantage of all the great ways to move at Body Zone. Make this the month you do something extra good for your heart and participate in the following Body Zone programs and activities:
Body Zone Does Your Heart Good WELLNESS CALENDAR
The good news about heart disease is that a healthy heart is within everyone's reach. You know the rules, eat more fruits and vegetables and keep blood pressure and cholesterol levels in check. Use this Wellness Calendar to help you live a heart-healthy lifestyle every day this month. Download it here
Know your numbers!
Body Zone offers complimentary blood pressure screening for members by Allison White, RN on February 6 and 21 from 9:30 – 10:30 AM and 5:30 – 6:30 PM in the Aquatics Lobby.
Get active in our 7-Day Cardio Challenge from February 13 – 19
Aerobic activity is great for your HEART, body and mind. Regular cardio exercise has been shown to reduce body fat, decrease total cholesterol, boost mood, lower resting heart rate and improve heart and lung function. We have plenty of heart pumping group exercise and individual work out options, all you need to do is attend/perform 5 of them in a 7-day period to win a prize or two and try something heart healthy and good for you! Free for members.
Learn More
Attend our BZ Does Your Heart Good Zumba GLOW Party on February 18 at 8:00 AM.
Sign up outside of the Mind Body Studio or contact Sarah Vecchio. Space is limited. Free for members.
Learn More
A healthy diet and lifestyle are your best weapons in the fight against heart disease.
Use our Weekly eBite for education and inspiration to make smart choices to benefit your heart and your overall health.
Attend our wellness seminars (free for members / $5 for non-members):
The Power of Yoga & Relaxation on February 23 at 6:30 PM – Learn More Best Exercise For Stress Relief on February 28 at 6:30 PM – Learn More
Attend our Citizen CPR classes to learn simple lifesaving skills and help save lives by putting more cardiac arrest victims within a few steps of lifesaving assistance. Join BZ Aquatics Coordinator Kyle Lincoln and BZ Swim Instructor Jenis Frederick for this American Red Cross Citizen CPR course designed to teach untrained bystanders how to perform hands-only CPR. Free for members / $5 for non-members.
Class dates/times: Thursday, Feb. 9: 12:00 – 1:00 PM or Friday, Feb. 10: 9:30 – 10:30 AM.
Learn More
Discover the relaxing benefits of massage through a mini-session of chair massage.
Chair massage takes place every Tuesday from 10:00 AM – 12:00 PM and Wednesday from 5:00 – 7:00 PM in our Aquatics Lobby. Just $1/minute. – Learn more
Other Resources:
healthfinder.gov
americanheart.org
goredforwomen.org
millionhearts.hhs.gov
---
Your Way to a 5K Group Running Program
Body Zone's group running program for newbie roadrunners and anyone looking to shed a few pounds, reduce stress and feel great about conquering a goal.
Your Way to a 5K is back with another eight-week, beginner-friendly group running program designed to help you learn how to run the right way. Discover a love of running by learning about good form and breathing techniques. Develop a running plan and goals and learn how to stay motivated. The program also addresses proper gear, nutrition, hydration and stretching techniques.
Participants will show what they know by participating in the Beat Beethoven 5K to benefit Reading Symphony Orchestra on Sunday, April 30. Class is open to the public.  
Meeting Times/Days:
5:45 – 6:35 PM
3/16, 3/23, 3/30, 4/6, 4/13, 4/20, 4/24 and 4/27
Fee:
$100  – Non-members get access to Body Zone's fitness center and pool during the eight-week training experience. Please note: 5K race fee not included in registration fee
Instructor:
Lisa Leayman, BZ personal trainer and certified running coach. Read bio below.
Program prerequisite:
Participants must be able to walk a brisk pace for 30 minutes
Training locations:
Body Zone and outdoor areas TBD by instructor
Register for 5K class:
Click here or contact Guest Services, 610-376-2100
Register for Beat Beethoven 5K:
Click here
About Lisa Leayman
Lisa is a Body Zone personal trainer and an avid and competitive distance runner. For the past 20 years, Lisa has competed in numerous half marathons, triathlons, duathlons and endurance adventure races. As a member of the Pagoda Pacers Athletic Club, Lisa embraces her passion for running by volunteering, promoting and coaching. She brings this vast experience to her individual clients at Body Zone and her current cross country athletes. Her programming is designed with all levels in mind from the experienced distance runner to the beginner.
---
Weekly eBite
Sign up here
Power up your nutrition wisdom with a once weekly dose of nutrition tips, inspiration and special recipes when you sign up to receive Body Zone's Weekly eBite by Aparna Mele, M.D. and My Gut Instinct.
About Aparna Mele, M.D. and My Gut Instinct
Aparna Mele, M.D. is a board certified physician with Digestive Disease Associates in Wyomissing, PA since 2007, and the only female gastroenterologist in Berks. Dr. Mele came to the field of medicine with extensive experience in performing international relief work overseas and is actively involved in local philanthropic work directed towards patient education and promotion of societal health.
She is the founder and president of a non-profit organization called My Gut Instinct, through which she is implementing local initiatives to empower community members to learn how to live healthier lives. My Gut Instinct is proud to collaborate with Body Zone on this Weekly E-bites series and other upcoming programs. My Gut Instinct also holds a free- for- the-community, annual health and wellness expo every fall, entitled Guts and Glory Digestive and Wellness Expo, offering educational booths, live cooking demonstrations, food tastings, group fitness exercise presentations, kids' fitness zones, expert lectures, massage tents and yoga huts, acupuncture, live music, and more! For more information, refer to her website at www.mygutinstinct.org. Look for more information on Guts and Glory 2017.
---
"Tough as Nails" Self-Defense Course For Women and Teen Girls
Learn concepts and skills to help you develop important and empowering self protection strategies in this popular and successful eight-week series for women and teen girls. The course offers hands-on learning, practice and reinforcement of effective and easy-to-remember self-defense techniques along with the use of state-of-the-art equipment to help reduce the likelihood of becoming a victim of an attack. More / Read what participants are saying
---
Blood pressure screenings
A complimentary service for members

High blood pressure is an easy disease to overlook. There are often no visible signs or physical symptoms. Because of this, it's important to have your blood pressure checked and tracked on a regular basis.
| | |
| --- | --- |
| Dates: | March 6 and 20 |
| | April 10 and 24 |
| | May 8 and 22 |
| | June 5 and 19 |
| Times: | 9:30 – 10:30 AM & 5:30 – 6:30 PM |
| Location: | Aquatics Lobby |
| Administered by: | Allison White, RN |