Futsal Leagues
QUICK LINKS: Registration | Important Information | Schedules & Standings | League Contact
"Futsal is the way the world plays soccer. It is played on all the continents of the world in over 100 countries by more than 12 million players." – U.S. Futsal
Body Zone and Reading United AC present Berks County's first true futsal league, as it is typically played on a hard surface, with a weighted ball and teams of 5v5. Unlike most other forms of soccer, futsal games are defined by lines rather than walls or boards, and are played with a smaller ball that has less bounce than a regular soccer ball. Teams consist of five players each, one of whom is the goalkeeper. Improvisation, creativity, and technique are emphasized in this game due to the surface, ball and rules. Ball control and passing in small spaces are important skills to have in this sport!
We are the only facility in the area to have soccer leagues developed under the direction of Reading United AC, the official player development partner of the Philadelphia Union.
---
Upcoming League Registration
Futsal League Registration

For Ages:
Adults
U13/U14 (04/03 Birth Years)
U11/U12 (06/05 Birth Years)
U9/U10 (08/07 Birth Years)
Start Date:
Saturday, June 2
Game Days:
Saturdays:
June 2, 9, 16, 23, 30
July 7, 14, 21, 28
August 4
Game Times:
9 AM – 7 PM
Cost Includes:
(7) regular season games plus playoffs
Cost:
$400/team plus ref fees are $10 per team
Registration Deadline:
May 26
U9/U10 (2008/2007 Birth Years)
Register
U11/U12 (2006/2005 Birth Years)
Register
U13/U14 (2004/2003 Birth Years)
Register
Men's Open
Register
Men's Recreational
Register
Co-Ed
Register
---
Important Information:
Games are played 5v5 with one being a goalkeeper, max roster of 12. Games run every hour with two halves of a 24-minute running clock and 5-minute half time.
Game days are Saturdays from 9 AM – 7 PM with a rain date on Sundays.
Games are played outside on Body Zone's back blacktop parking lot.
League Tools
League Amenities
Online schedule, scores and standings
Team awards for champions
---
Schedules and Standings:
---
League Contact: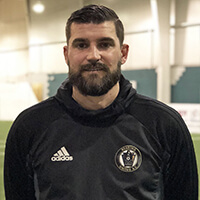 Colin Kent
Director of Soccer
610-376-2100 x 230