Learn to Skate
Learn to Skate is the only ice skating program endorsed by U.S. Figure Skating, USA Hockey, US Speedskating and the Special Olympics
QUICK LINKS: Registration | Important Information | Instructor | Learn To Play Hockey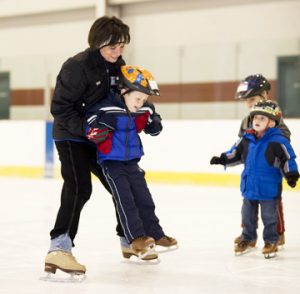 Learn to Skate USA makes these lessons easy and fun. Through our world-class curriculum and nationally certified instructors, you will be enthusiastic about learning to skate—from your first steps on the ice until the time you reach your goals. Whether you wish to enjoy the recreational benefits of skating or dream of Olympic fame, this is the place to start.
Free Gift: Body Zone makes it easy for Learn to Skate participants to show off what they've learned in this program. All participants will receive a complimentary punch card good for five free visits and skate rental to one of our popular public skating sessions. A $60 value.

No Skates? No Problem. We have plenty of complimentary pairs for students available at no charge for all classes.
* We ask that you please arrive 15 minutes early before class. There's a lot to do before we begin!
---
Upcoming Class Registration
Register online or call Guest Services at 610-376-2100. Questions? Email Audrey Turner.
Fall 2017 Session II Dates

Learn to Skate, Ages 5+ | Saturday Mornings

Dates:
11/4, 11/11, 11/18, 12/2, 12/9, 12/16
*No class on Saturday, 11/25 due to Thanksgiving Holiday
Time:
9:00-10:00 AM

Learn to Skate, Ages 5+ | Wednesday Evenings

Dates:
11/8, 11/15, 11/29, 12/6, 12/13, 12/20
*No class on Wednesday, 11/22 due to Thanksgiving Holiday
Time:
5:15-6:15 PM

Tot Learn to Skate, Ages 3-5 | Saturday Mornings

Dates:
11/4, 11/11, 11/18, 12/2, 12/9, 12/16
*No class on Saturday, 11/25 due to Thanksgiving Holiday
Time:
10:15-11:00 AM

Tot Learn to Skate, Ages 3-5 | Wednesday Afternoons

Dates:
11/8, 11/15, 11/29, 12/6, 12/13, 12/20
*No class on Wednesday, 11/22 due to Thanksgiving Holiday
Time:
1:00-1:45 AM

Tot Learn to Skate, Ages 3-5 | Thursday Afternoons

Dates:
11/9, 11/16, 11/30, 12/7, 12/14, 12/21
*No class on Thursday, 11/23 due to Thanksgiving Holiday
Time:
1:00-1:45 PM

| | |
| --- | --- |
| Winter 2018 Session I | |
| Learn to Skate, Ages 5+ | Wednesday Evenings | |
| Dates: | 1/3, 1/10, 1/17, 1/24, 1/31, 2/7, 2/14, 2/21 |
| Time: | 5:15-6:15 PM |
| Cost: | $135 |
| | Register |