Personal Trainers
Meet our fitness professionals
A positive relationship with your personal trainer is a key to achieving your goals.
---
Nate Seager
Email | 610-376-2100 x 459
Experience/Interests
Nate grew up in Myerstown, PA where he attended ELCO High School and played on the soccer and baseball teams. Nate joined Body Zone's training team in 2007 and has coached and guided countless athletes and individuals to better health and strength. Nate is always ready to jump into a softball or soccer team and plays golf regularly.
Training Philosophy
Test yourself every day. You have to put in the time and effort to achieve your desired goals.
Education
Slippery Rock University, B.S. Exercise Science
NASM Certified Personal Trainer
---
Lisa Leayman
Email | 610-376-2100 x 454
Experience/Interests
Lisa started her personal training career as a Physical Education teacher at a local elementary school. Her passion for educating all ages about the benefits of leading a healthy and fit lifestyle led her to Body Zone where she continues to help all her clients reach and exceed their fitness goals. She is certified in golf, nutrition and senior fitness.
An avid and competitive distance runner for more than 20 years, Lisa has competed in numerous half marathons, triathlons, duathlons and endurance adventure races. As a member of the Pagoda Pacers Athletic Club, Lisa embraces her passion for running by volunteering, promoting and coaching. She brings this vast experience to her individual clients at Body Zone and her current cross country athletes. Her programming is designed with all levels in mind from the experienced distance runner to the beginner.
Training Philosophy
A little bit of consistent hard work equals extraordinary gains. Love yourself and love your body to make it the best it can be, inside and out.
Education
Pennsylvania State University, B.S. Marketing
NASM Certified Personal Trainer
Certified Fitness Nutrition Specialist
---
Melissa Figura
Email | 610-376-2100 x 462
Experience/Interests
Fitness has always been a huge priority and passion in Melissa's life. She started her training career in 2006 and has experience working with all ages, from aspiring young athletes to older adults. She has really enjoyed helping her older adult clients achieve greater strength and mobility with a major focus on better core strength for improved balance and stabilization. An experienced group exercise teacher, Melissa specializes in SilverSneakers and BODYCOMBAT instruction and is well known for choreographing high-quality custom classes. Melissa loves spending her free time with her five sons and enjoys watching them in their many sporting activities. She enjoys running, biking and skiing. Because she believes in leading by example, she is very passionate about staying fit and healthy.
Training Philosophy
My main objective is to tailor each client's workout specifically for them. Some people have limitations we have to work around but there is always a way. I teach my clients to never give up and to make strides each and every day. Staying both mentally and physically strong is the goal.
Education
ISSA Certified Personal Trainer
AFAA Certified Group Fitness Instructor
Les Mills Certified BODYCOMBAT Instructor
SilverSneakers Group Exercise Instructor
---
Sarah Vecchio
Email  | 610-376-2100 x330
Experience/Interests
Sarah received a B.S. in Kinesiology from Pennsylvania State University where she was a fitness instructor to students and faculty. Sarah has been working in fitness industry management since 2003 focusing on group exercise and personal training. She is certified through National Academy of Sports Medicine as a Personal Trainer and has been training clients at all fitness levels, even post rehab. Sarah is also Body Zone's Director of Group Fitness and when she isn't busy planning the more than 130 group exercise programs in Body Zone's studios and pool, you'll find her chasing after her very active and young daughters.
Training Philosophy
Sarah is intent on showing her clients that they can do anything they put their mind to. She's struggled through difficult pregnancies and hardships in life and as a former competitive gymnast knows the power of fitness to increase your confidence and affect your life in a positive way.
Education
Pennsylvania State University, B.S. Kinesiology
NASM Certified Personal Trainer
AFAA Group Fitness Instructor
Les Mills Certified in BODYPUMP, BODYATTACK, BODYSTEP, BODYCOMBAT and CXWORX
---
Olivia Shaffer
Email  | 610-376-2100 x462
Experience/Interests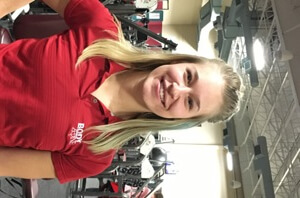 Olivia's passion for fitness began as a standout, multiple-sport, youth athlete at the early age of five. In high school her love for athletics blossomed into an enthusiasm for off-the-field conditioning and strength work. Her studies at Kutztown University were entirely focused on helping others as she completed her BS in Social Work, while earning her Personal Training, Nutrition and Water Safety Instructor Certifications. She has also led healthy living and body image groups for women. In her free time she enjoys kayaking, cooking, running 5k's and spending time with her family.
Training Philosophy
Fitness is a journey and not a destination; there is no end, just new goals.
Education
Kutztown University, B.S. Social Work
AFPA Certified Personal Trainer
Red Cross Certified Water Safety Instructor Certified
Nutrition and Wellness Consultant
---
Emily Gordon
Email | 610-376-2100 x461
Experience/Interests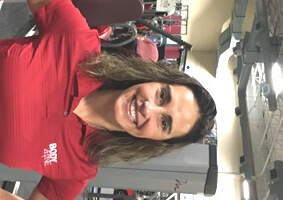 Emily joined the Body Zone team as a group exercise instructor in 2010 and has enjoyed coaching many members in their fitness journey. Seeing the change that people could make with just some coaching in a large group setting sparked a desire to be able to help people with their goals on a more personal level. She believes that everyone deserves to be their personal best.
Training Philosophy
I see people of all ages, abilities and talents come into Body Zone with a goal to better themselves. I love helping people reach those goals.
Education
San Diego State University, B.A. Communications
NASM Certified Personal Trainer
Schwinn Cycling Instructor
Les Mills BODYPUMP Instructor
Fitour GroupX Certified Instructor