Pickleball
Pickleball is America's Fastest Growing Sport
QUICK LINKS: New Player Clinics | Important Information | League Contact
New Player Clinics
New Player Clinics are held one to two times per month, for one hour, typically just prior to an open play Pickleball session. Clinics are conducted by BZ's Pickleball regulars and are for first-timers through beginner skill levels. Clinics cost $5 per player, payable at the Guest Services Desk. Advanced registration is not required. Clinics are not open play sessions for intermediate to advanced players.
November New Player Clinics
Wednesday, November 15: 11:00 am -12:00 pm
Thursday, November 16: 4:00 – 5:00 pm
---
Important Information
You do not need to be a Body Zone or a USAPA member to play.
Pickleball is for ages 18+.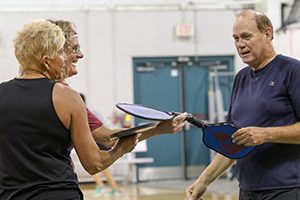 Pickleball is a great game, with fun, camaraderie, great exercise and competition, no matter your age. It all takes place in a social environment that accommodates any level of athleticism from none to advanced.
The sport is played on a badminton-sized court with the net lowered to 34 inches at the center. It is played with a perforated plastic baseball, similar to a whiffle ball, and wood or composite paddles. It is easy for beginners to learn, but can develop into a quick, fast-paced, competitive game for experienced players.
You'll become addicted.
Open Play Fee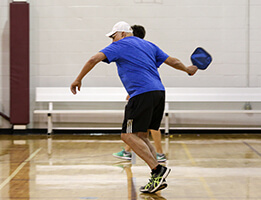 $5 per player, per session. Payable at the Guest Services Desk.
$40 10-session punch cards are available for purchase. Couples/pairs may share a card but please keep in mind that for every session a couple/pair uses a card it counts as two punches.
In the national spotlight
Pickleball has been featured on NBC Nightly News
Equipment
Body Zone has paddles and balls available for use at no additional cost.
Sneakers only permitted on the court.
Toolbox
Location
Body Zone has three indoor courts. Enter via the main entrance and check in at the Guest Services Desk.  From the desk proceed to the end of the main concourse and make a left. The courts are just past Field #1.
No outside food or drink is permitted at Body Zone.
Member of USA Pickleball Association | USAPA Code of Conduct
---
Pickleball Contact:
Doug Miller
Assistant Director of Sports
610-376-2100 x 453