Community Wellness Programs
Wellness begins with making the commitment to live a healthy lifestyle. Body Zone will help you every step of the way with a variety of programs and classes for individuals and groups many of which are open to the public. Not a member? Experience our fitness and aquatics centers with our free 7-Day Pass!
---
Quick Links:
The Art of Aging: Navigating the Change of Menopause (Free Lunch & Learn)
Personal Training 101: Test Drive A Trainer for Free
Bubbles & Barre – Open To The Public
Complimentary Blood Pressure Screening
---
The Art of Aging: Navigating the Change of Menopause
A Free Lunch & Learn Event by Penn State Health St. Joseph
Dr. Kissling believes it's vital for all women to have an understanding of menopause and how it may impact their lives. Join her to learn more about this important topic for all women. She'll discuss the natural changes occurring during menopause along with the different treatment options to help symptoms. Differences among women are very common, and understanding the possibilities, including maintaining a healthy lifestyle, can help you understand your body during this period of change.
| | |
| --- | --- |
| Date/Time: | Thursday, November 21, 2019 / 12:00 PM |
| Fee: | Free for Body Zone's adult members |
| Location: | Body Zone's main level meeting room |
| Register: | Sign up by November 18 at Body Zone's Guest Services or email learn@bodyzonesports.com |
About Jessika Kissling, MD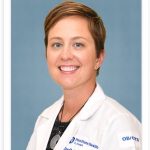 Jessika M. Kissling, MD, is a member of the St. Joseph Medical Group and specializes in gynecology, obstetrics and gynecology, robotic-assisted surgery. She earned her undergraduate degree at The George Washington University and earned her medical degree from Drexel University College of Medicine. She joins Penn State Health St. Joseph from the Lancaster Physicians for Women medical group. She completed her residency in Obstetrics and Gynecology at the Reading Hospital and Medical Center. She is board-certified in Obstetrics and Gynecology and is a Fellow of the American Congress of Obstetricians and Gynecologists.
---
Personal Training 101
Free Member Program
What is it?
Free 50-minute demo workout with a Body Zone Personal Trainer for all fitness levels
For:
Members new to personal training
Why?
Learn more about why personal training makes a difference by jumping right into a workout with a BZ Trainer! Training sessions are always customized to meet the needs of clients, but enjoy a free session that includes a typical workout: dynamic warm up, exercise instruction, balance, core, strength and cardio work, mobility exercises (foam rolling, stretching etc). One demo workout per member.
When:
OCTOBER DATES:
October 30 at 5:00 pm
NOVEMBER DATES:
November 5 at 9:00 AM
November 14 at 6:00 PM
November 20 at 9:00 AM
Sign up:
Register via sign up sheets located at the 2nd floor Wellness Desk or email Jason Kelly
---
Bubbles & Barre
Join us for a fun evening at the barre. Enjoy an one-hour, high energy Athletic Barre class by a duo of BZ expert instructors and reward yourself with bubbly treats at the end of class.
Athletic Barre is a small group, fitness inspired class that will focus on building strong legs and core with a mix of upper body work using fitness props like balls, tubing and light weights. This challenging workout will make you feel strong, flexible and fit and its small group setting will ensure you get the most out of every class. Hurry and sign up! This event is limited to 10 participants.
| | |
| --- | --- |
| Date/Times: | Friday, November 15, 2019: 5:30 – 6:30 class followed by 30-minute cocktails and convos |
| Instructor: | Julianne Smith & Tammy Partsch |
| Location: | The Wellness Studio – main floor at Body Zone |
| Fees: | $15 member / $25 non-member |
| Register: | Click HERE to sign up or call Guest Services 610-376-2100. Event is limited to 10 people. |
---
Blood Pressure Screening
A complimentary service for members



High blood pressure is an easy disease to overlook. There are often no visible signs or physical symptoms. Because of this, it's important to have your blood pressure checked and tracked on a regular basis.
| | |
| --- | --- |
| Dates / Times: | Tuesday, November 5: 8:00 – 10:00 AM |
| | Thursday, November 21: 8:30 – 10:30 AM |
| Location: | Aquatics Lobby |
| Administered by: | Tracy Kowalski RN from Power Kunkle Wellness Matters |
---
Did you know? Body Zone Sports and Wellness Complex is a National Association of Sports Medicine (NASM) and Athletics and Fitness Association of America (AFAA) preferred facility. Partnership benefits for our staff and potential staff and members are numerous and offer preferred pricing, workshop discounts and more. Contact Jason Kelly to learn more.