Kronum
QUICK LINKS: Registration | Details | Schedules & Standings | Rentals | Contact Information
A new sport for the modern athlete is played at Body Zone
Kronum is played with a sport-specific ball on a field made of three concentric circles. Different zones on the field of play dictate how the ball is handled and points awarded for scoring.
The Kronum Ball was custom built to be thrown and kicked. Because of this the game combines elements of soccer, basketball, football, handball, water polo (minus the pool) and more.
The goal is billed as "unlike anything you've ever seen" and features a chamber and a crown. The goal's goal is to encourage creativity and athleticism.
Visit kronum.com for even more.
---
Upcoming League Registration
Please check back for future dates and details!
Fee per team (

must be paid in full by first game

):
TBA
Registration Deadline:
TBA
Ref Fees:
TBA
Time:
TBA
Day:
TBA
Game Dates:
TBA
*If needed. Playoffs could take place this week or the week before depending on the number of teams.
---
Details
Games are 5v5, rosters are limited to 10 players
Games Guaranteed (Regular Season + Playoffs): 6 (5+1)
Minutes per game (Regular Season/Playoffs): 45/24
Adults ages 18+
Highlight Video
---
Rules and Scoring Explanation Video
---
Kronum Rentals
Kronum can be played by renting field time. All equipment (two goals and balls) is included. Please call 610-376-2100 for rates and availability.
---
Schedules & Standings
---
For More Information, Contact: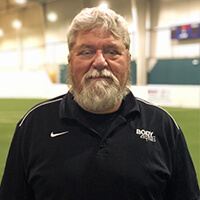 Doug Miller
Assistant Director of Sports
610-376-2100 x 453