Learn to Play Hockey
---
Four branches of development for players ages 4-14
QUICK LINKS:
Registration | Schedule |Program Overview | Important Details | Levels of Placement | Instructor | Youth Hockey Leagues
Program Overview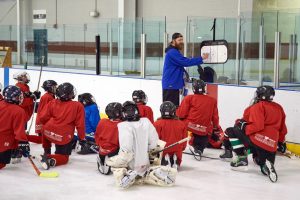 Body Zone's Learn To Play Hockey program features four levels:
Beginners (Ages 4-8) / Learn to Play Hockey Level 1
Intermediate / Learn to Play Hockey Level 2
Advanced (Ages 9-14) / Learn to Play Hockey Level 3
Learn to Play Hockey addresses players who first need skating skills and then a program focused on instruction and training that helps them learn the game and grow their skills.
Once skating skills are established, our approach is based on USA Hockey's American Development Model of practicing and playing ice hockey across the ice surface (Cross Ice) but now offers the opportunity to expand your game on an intermediate sized rink (Half Ice) and to ultimately polish it on the full sheet (Full Ice). The benefit of this approach is that it better groups players together by age and ability so they can develop skills and a love for the game so they can excel.
---
Upcoming Class Registration
Before registering:
Proof of USA Hockey Membership is required for all players.
Players will be evaluated by coaches and placed in the appropriate program based on age, size, ability and experience.
Please see our Levels Of Placement.
Fall Session: Begins October 5, 2019 | Registration deadline: October 3

Day/Dates:
Saturdays: 10/5, 10/12, 10/19, 10/26, 11/2, 11/9,
11/16, 11/23, 12/7, 12/14 & 12/21 (No class on 11/30/19 – Thanksgiving weekend)
Cost:
$220 for 11 one-hour sessions
Level 1: Beginner players and ages 4-8 / 11:00 am – 12:00 pm
Register
Level 2: Intermediate players (class time TBD once all players are assessed)
Register
Level 3: Advanced players and ages 9-14 / 12:15 – 1:15 pm
Register
---
Levels of Placement
Please be aware players will be evaluated by coaches on the first day and will then be placed in the appropriate program based on age, size, ability and experience.
Learn to Skate
Ages 4-14 are candidates for this level.
The only ice skating program endorsed by USA Hockey, U.S. Figure Skating, US Speedskating and the Special Olympics is the foundation for aspiring hockey players. More
Level 1: Beginner
Ages 4-8 are candidates for this level
60 minutes of instruction
Level 2: Intermediate
Intermediate players are placed in the appropriate class based upon skill level and experience.
60 minutes of instruction
Level 3: Advanced
Ages 9-14 are candidates for this level
60 minutes of full ice practice
---
Important Details:
Learn to Play Hockey offers sessions year-round. Proof of USA Hockey Membership is required for all players prior to the first session.
For helpful information on equipment and supplies for your young player, click here for a Beginner's Guide to Outfitting Your Hockey Player.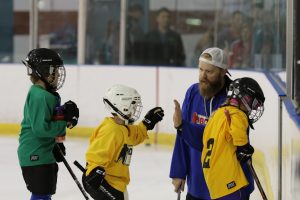 Learn To Play Hockey Program goals and highlights:
Have fun
Learn respect
Learn hockey
Small group sizes provide more one-on-one teaching, and more repetition and frequency in drills
Game time format creates more puck contact and shooting opportunities
Goalkeepers see more repetition
Players experience increased speed in playing situations prompting quicker mental and physical reaction
No unnecessary breaks in games for off-sides or icing means more playing time
Prepares beginner players for the transition to a traditional league
Once completion of these programs and achievement certification is reached for each level player will be evaluated an moved onto the proper program
---
Director of Learn to Play Hockey & Lead Instructor
Terry Denike is Body Zone's Director of Learn to Play Hockey. He brings an outstanding track record and much sought after experience as an instructor to the Complex's Learn to Play Hockey program. He was also an accomplished amateur, collegiate and professional player. He is a Level 4 certified USA Hockey Coach.
Since 2011 he has owned and operated Denike Goaltending Development. DGD calls Body Zone's rinks home. They have successfully instilled fundamentals that have allowed students to build a foundation to help them expand their talents in the future.
Body Zone's Learn to Play Hockey program is not just for goalies. BZ welcomes kids interested in playing any position.
Denike played professionally for five seasons. He made his professional debut with the Reading Royals during the 2003-2004 ECHL season and concluded his career with Reading in 2007-2008. In between he played for Fresno, Dayton and Wheeling in the ECHL, Wichita in the CHL and Jacksonville, Macon and Florida in the SPHL.
A goalie, he had a career goals against average of 3.14 and save percentage of .904. In 2005-2006 with the Florida Seals he was the SPHL's Top Goalie award winner and team MVP. He won the ECHL's Goaltender of the Week Award twice with Reading in 2007.
During his career as an amateur and pro he earned a total of six Most Popular Player, Most Inspirational Player and Community Service Awards – including the Royals Community Service Award in 2007-2008.
As an amateur Denike player minor hockey for the Oakville Rangers and Mississauga Senators and juniors for the Weyburn Redwings of the SJHL Jr. A tier 2. Collegiately he earned a full scholarship to NCAA Division I Lake Superior State where he studied Fire Science.
Denike was selected in the 5th round of the 2001 NHL draft by the Los Angeles Kings. He was born in Mississauga, Ontario.
For More Information, Contact:
Terry Denike
Director
Learn To Play Hockey
learnhockey@bodyzonesports.com
610-914-8111
Interested in coaching?
Contact Terry Denike, above
Must be USA Hockey Certified