Pickleball
Pickleball is America's Fastest Growing Sport
QUICK LINKS: Holiday Tournament | New Player Clinics | Beginner Sessions | Details | Contact Information
PLEASE NOTE:
Please take a moment to read our rules and procedures by clicking HERE.
No outside food or beverages are permitted at Body Zone.
New Player Clinics (With Instruction)
New Player Clinics are held for one hour, typically just prior to an open play Pickleball session. Clinics are conducted by BZ's Pickleball regulars who give thorough instruction for first-timers through beginner skill levels. Clinics cost $5 per player, payable at the Guest Services Desk. Advanced registration is required. Clinics are not open play sessions for intermediate to advanced players.
Please note: You must pre-register 24 hours prior to the clinic start time. If less than three people register, we will notify you via email and the clinic will be canceled.


December New Player Clinics
Click on the buttons below or call 610-376-2100 to register for one of our upcoming clinics.
December 20: 3:30-4:30 pm
---
Beginner Sessions
In an effort to accommodate all skill levels, Body Zone is offering Beginner Sessions for players that are learning to play, and may not be quite as competitive as others. These sessions are specifically for players with beginner skill levels looking for recreational play. These sessions do not include instruction. Beginner Sessions are 60-minute sessions typically held one to two times per month. Beginner Sessions cost $5 per player, payable at the Guest Services Desk. Advanced registration is not required. Beginner Sessions are not open play sessions for intermediate to advanced players.
December Beginner Sessions
December 2: 9:30-11:30 am
December 3: 1:00-3:00 pm
December 10: 2:00-4:00 pm
December 13: 3:30-5:30 pm
December 19: 1:00-3:00 pm
December 20: 4:30-6:30 pm
December 23: 9:30-11:30 am
---
Tournament Registration
Holiday Recreational Adult Mixed Doubles Pickleball Tournament

For:
Adults ages 24+, players with a Pickleball rating of 2-3, beginner to intermediate players looking to have fun!
Date:
Thursday, December 26, 2019
Details:
Tournament games will begin at 9:00 am and conclude no later than 5:00 pm. (This end time may change to an earlier time)
• Fun, recreational adult mixed doubles Pickleball tournament
• One male, one female per team
• Four-game guarantee/total games played will depend on number of teams registered in the tournament
• Limited to (24) teams
• Round robin format
• Players must be ages 24+ to participate
• Games will be played to 11 points
• Great prizes for tournament champions and runner-ups
• Regulation tournament balls will be used
Cost:
$20.00 per team
Registration Deadline:
Friday, December 20, 2019
Register:
Register
---
Details
You do not need to be a Body Zone or a USAPA member to play.
Pickleball is for ages 18+.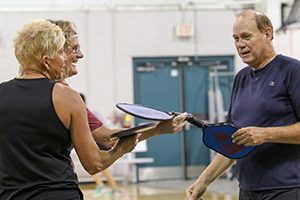 Pickleball is a great game, with fun, camaraderie, great exercise and competition, no matter your age. It all takes place in a social environment that accommodates any level of athleticism from none to advanced.
The sport is played on a badminton-sized court with the net lowered to 34 inches at the center. It is played with a perforated plastic baseball, similar to a whiffle ball, and wood or composite paddles. It is easy for beginners to learn, but can develop into a quick, fast-paced, competitive game for experienced players.
You'll become addicted.
Open Play Fee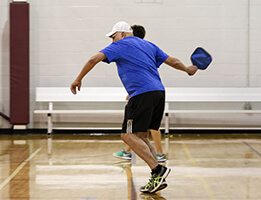 $5 per player, per session. Payable at the Guest Services Desk.
$40 10-session punch cards are available for purchase. Couples/pairs may share a card but please keep in mind that for every session a couple/pair uses a card it counts as two punches.
In the national spotlight
Pickleball has been featured on NBC Nightly News
Equipment
Body Zone has paddles and balls available for use at no additional cost.
Sneakers only permitted on the court.
Important Information
Location
Body Zone has three indoor courts. Enter via the main entrance and check in at the Guest Services Desk. From the desk proceed to the end of the main concourse and make a left. The courts are just past Field #1.
No outside food or drink is permitted at Body Zone.
Member of USA Pickleball Association | USAPA Code of Conduct
---
Pickleball Contact: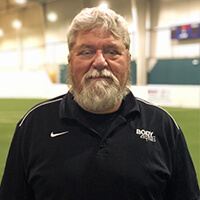 Doug Miller
Assistant Director of Sports
610-376-2100 x 453