School's In Day Camp (For Virtual School Support)
A safe and supervised experience for little e-learners in grades K-5 beginning September 14, 2020.
---
You bring your child and their technology and we provide: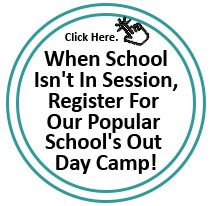 Supervision and virtual school support to keep children on task as they log in, participate in their virtual classes and complete daily assignments,
A quiet and very safe workspace, socially distanced with safety screens,
Safety and health measures that go beyond the guidelines and include contactless drop-off and more,
"Get Up & Move" breaks as their schedule allows via structured field games or fitness experiences,
Pre-packaged healthy snacks,
Open communication via daily reports with parents.
---
Schedule, Fees & Registration:
Camp will be offered weekly from September 14 – June 4, 2021
Camp runs Monday – Friday: 8:00 AM – 4:00 PM
Camp will follow Wilson School District school schedule and will not be offered on holidays. The good news? Our School's Out Day Camps cover those days off from school.
Convenient options available to accommodate your schedule! If you are registering for three-day, two-day or one-day options, please indicate your desired days under "Notes And Comments" on our registration page.
Extended care available from 7:30 AM – 5:30 PM
Parents/guardians must complete a full registration form including medical, pick-up consent, and extended care information.
Fees:
Full-Time : $225/child per week
(add $50 for extended care)
Three-Day Part-Time: $150 per child per week
(add $30 for extended care)
Two-Day Part-Time: $100 per child per week
(add $20 for extended care)
One-Day Part-Time: $50 per child per day
(add $12 for extended care)
REGISTER HERE
DOWNLOAD, PRINT & COMPLETE MEDICAL FORM HERE
Scan completed medical form and send to dlascoskie@bodyzonesports.com or return via mail to: Donna Lascoskie, Body Zone Sports and Wellness Complex, 3103 Paper Mill Road, Wyomissing, PA 19610.
---
Special Details:
Body Zone School's In Day Camp Safety & Health Guidelines cover:
– Contactless drop-off and pick-up
– Temperature check and health assessment at drop-off
– Staff safety measures covering required clearances, mandatory mask protocols and more per Body Zone's COVID-19 Employee Guidelines.
– Children at safely spaced and private workstations with privacy screens
– And so many more safety measures as listed in our comprehensive School's In Day Camp Safety & Health Measures/Guidelines + Camp Handbook
Children must be fully potty trained to attend day camp.
Parents of children with special needs are asked to please contact our Camp Administrator.
---
What You Need To Bring:
Technology, login information, class schedules and information on any pertinent apps
Headphones or earbuds
School supplies (we'll have back up supplies too)
Packed lunch
Reusable water bottle
Comfortable clothes and sneakers for "Get Up & Move" breaks
---
Camp Administrators:
Our School's In Day Camp program is directed by:
Donna Lascoskie, Body Zone Youth Programs Director & Camp Administrator
Donna has worked with children in a camp/sports/teaching capacity in Berks and Chester counties for the past 30 years. She has a B.A. in Health and Physical Education from Slippery Rock University. She taught physical education for seven years and her outstanding camp management and leadership experience is derived from her 14-year-career with Girls Scouts of Eastern PA as unit staff, troop program coordinator, trip coordinator, CIT Director, Assistant Camp Director and Camp Director.
Lindsay Schroeder, Body Zone Camp Director
Read Lindsay's bio here
---
For More Information:
Please contact:
Donna Lascoskie
610-376-2100