Skill School
Reading United AC Soccer Training

QUICK LINKS:
Skill School | Goalkeeper Development | Youth Academy | Director of Soccer | Schedule
Reading United's Skill School at Body Zone is soccer training that addresses each individual player's current skill level and learning style in order to properly coach each player and improve their skill set.
Six-week sessions are scheduled for boys and girls U8 to U12. Players of all skill levels are invited to participate. Sessions are held at the times below and are 60-minutes in length for U8 and 90-minutes for U9 through U12. The price includes all six clinics in each session. All players receive a season ticket for all 2018 Reading United home games.
Body Zone is the longest running and only two-field indoor-soccer facility in Berks County. It is club neutral and does not operate travel/premiere teams so that all players get the attention they need. Reading United is consistently one of the top PDL franchises in the country and their team annually features top college and international talent, many who have gone on to be high draft picks by MLS clubs. The RU-BZ partnership creates a soccer culture that cannot be matched!
Free Gift: An added benefit of the partnership between Body Zone and Reading United is that all players who take part in Skill School and/or Goalkeeper Development receive free entry (one per player) to all 2018 Reading United home games. Players are encouraged to enjoy the games and also use them as an example to see the skills and tactics taught in Skill School applied by some of the world's best U23 players.
---
View Body Zone's Soccer Age Guide
Upcoming Skill School Registration
Register online or call 610-376-2100
Check back for future details!
---
About Reading United AC's Teaching Methodology:
Skill School addresses those needs through an approach that integrates constant repetition at a fast pace based on activities and drills from the training manuals of top European clubs like:
Manchester United
Liverpool and Real Madrid
Actual practice plans utilized by Reading United's PDL club
U.S. Soccer's Best Practices for Coaching Soccer in the United States player development guidelines
The benefit of this approach is that it ingrains soccer skills and understanding into young players so that they become second nature. The approach makes game play a product of the training, slowing it down to create players who react instinctively and execute faster than even their coaches – or opponents – think.
---
Goalkeeper Development Program
This specialty program makes the last line of defense the number one priority. Players are provided with 6 total hours of goalkeeper training, and each session is focused on individual skill acquisition. Our qualified goalkeeper coaches have years of experience both playing and coaching the position, and ensure that each player gets the individual attention they need.
Skills & techniques covered:
Catching
Diving
Footwork
Goal kicks
Positioning
Punts
Register online or call 610-376-2100
Check back for future details!
---
Reading United Youth Academy
---
Director of Soccer
Colin Kent is Body Zone's Director of Soccer, and Reading United AC's Director of Youth Coaching. Colin has been at Body Zone since 2011, and has brought us his wealth of knowledge and experience to take our soccer programs to the next level. His focus here at Body Zone is to oversee, energize, promote and grow our Reading United Skill School program and Body Zone Soccer Leagues. Colin and his fellow RUAC coaches are great at providing a fun environment for kids to learn, develop their skill set, and foster a love of the game.
Colin is a 2008 graduate of Lander University, SC where he obtained his B.S. degree in Physical Education/Teacher Certification, K-12, and served as captain of the men's soccer team his junior and senior year. Colin helped the Lander Bearcats become the South East Region Champions in 2005, The Peach Belt regular season title holders and Tournament Champions in 2006.
Colin grew up in Norwich, England and knows first hand what it is like to be involved in top-level soccer having spent time on trial at Norwich City and Ipswich Town. As a youth player in England, Colin represented his club and county at the U16-U18 level and was awarded the Outstanding Achievement Award for Bury Town Reserves; the Suffolk County Under 16 Player of the Year Award in 2000; and the Hobart High School Sportsman of the Year Award that same year. Most impressively, for those who follow FA soccer in England, Colin helped his teams to the championship of the English Schools FA Cup Final in 2000 and again in 2003 when he earned the English Schools FA Cup MVP Award.
Colin holds a USSF C license and has been involved in coaching soccer in the United States for a number of years. During his time in South Carolina, Colin was the Community Soccer Officer at South Carolina United FC, one of the largest youth soccer organizations in the South East.
Colin now resides in Sinking Spring with his wife Cate.
"Week after week, seeing the enjoyment and the progression of the kids is really what is most meaningful for me… Whether it is a child who has played two years or six years, we are looking for that individual progression throughout the program and that's what our sessions are designed around." – Colin Kent
For More Information, Contact: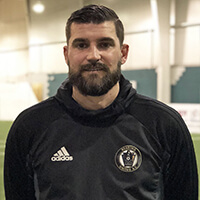 Colin Kent
Director of Soccer
610-376-2100 x 230