Weekly eBite: Why Nuts Are Healthy + Recipe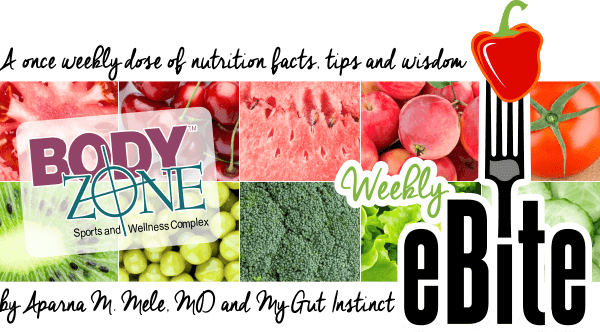 Nuts are underrated nutritional gems, packed full of protein and linked to lowering levels of cholesterol, decreasing heart disease, reducing weight, and lowering the risk of cancer. Americans do not eat nuts regularly, which account for only 8% of daily antioxidant intake, possibly because people are afraid of the fat and calories in nuts. But it turns out that a small handful can pack your diet with filling protein, fiber, unsaturated fats, and important vitamins and minerals. They are also a great snack food — inexpensive, easy to store and easy to pack when you are on the go.
Walnuts contain the most antioxidants of all nuts, which protects from the cellular damage that contributes to heart disease, cancer, and premature aging, and are rich in heart healthy omega-3 fatty acids.
Almonds contain high doses of fiber which can curb hunger, lead to weight loss, and control fluctuations in blood sugar. Studies have even show that these nuts increase the populations of healthful bacteria in the digestive tract that bolster immunity.
Cashews are rich in iron which helps to oxygenate the tissues, zinc which is important for immunity and healthy vision, and magnesium which can combat age-related memory loss.
Pecans are also anti-oxidant rich and help to lower cholesterol and prevent plaque buildup in your arteries. They are also high in vitamin E which buffers brain health and may delay the progression of degenerative neurological diseases.
Brazil nuts are a potent source of selenium, which may prevent certain cancers including bone, breast, and prostate cancers, if eaten in safe amounts.
Macadamia nuts, while calorically very dense, contain the greatest amount of heart healthy monounsaturated fatty acids, which lowers bad cholesterol and blood pressure.
Pistachios are easily the most slimming of all the nuts, at less than 4 calories each, and eating them in the shell slows down the pace of eating, so the snack naturally lasts longer and you eat less. They are linked to a decrease in the lung cancer risk because of their rich supply of cancer-fighting antioxidants and are packed with potassium and vitamin B6.
One drawback to nuts is that they are high in calories, so it is important to limit portions. As much as 80 percent of a nut is fat. Even though most of the fat in nuts is healthy fat, it's still a lot of calories. Also, it must be kept in mind that you could end up canceling out the heart-healthy benefits of nuts if they're covered with chocolate, sugar or salt. That's why you should eat nuts in moderation. Ideally, you should use nuts as a substitute for saturated fats, such as those found in meats, eggs and dairy products.
Instead of eating foods with unhealthy saturated fats, try substituting a handful of nuts or a tablespoon or two of a nut spread. The American Heart Association recommends eating about four servings of unsalted nuts a week. Select raw or dry-roasted nuts rather than those cooked in oil.
Turn the rich flavor and crunch of nuts into nutritious dinners, lunches, and snacks for your better health!
Yours in health,
Dr. Mele
---
Lime Macadamia Crusted Chicken
Source: Sparkrecipes.com
Serve this crunchy tropical chicken with a green salad, mango salsa or chutney, or brown basmati rice for a simple, colorful, and balanced dinner.
Serves: 4
Ingredients:
Cooking spray
3/4 teaspoon light coconut milk
Zest and juice of 1 lime, divided
1/4 cup chopped dry-roasted macadamia nuts
1/4 cup panko
2 tablespoons chopped cilantro
1 pinch salt
1 pinch black pepper
1 pinch red pepper flakes (optional)
4 4-ounce boneless, skinless chicken breasts
Directions:
Preheat oven to 375 degrees and spray a baking sheet with cooking spray. In a shallow dish, combine coconut milk and lime juice. In another shallow dish, combine lime zest, macadamia nuts, panko, cilantro, salt, pepper, and red pepper flakes, if using. Dip each chicken breast into coconut milk, then into macadamia mixture, then place on baking sheet. Spritz top of each breast with additional cooking spray, if desired, to facilitate browning. Baking for 25 minutes until crust is golden brown and chicken have reached an internal temperature of 180 degrees.
Nutrition score per serving: 217 calories, 10g fat (2g saturated), 5g carbs, 27g protein, 1g fiber