Adult Ice Hockey Leagues
Due to the current shutdown, we will be rescheduling all sports leagues and sports instructional programs so that they can resume in a timely fashion and be completed in their entirety upon our reopening. We will be communicating those dates and times on our web pages and via email as soon as they are known. Specific questions may be addressed to info@bodyzonesports.com.

WATCH: A Message From Derek Holland on Behalf of Body Zone's Ice Sports Department
For more information, email Body Zone's Director of Sports, Ice & Youth Programs, Jason Bowman, at jbowman@bodyzonesports.com
---
Need A Place To Play Ice Hockey?
QUICK LINKS: Registration | Details | Schedule & Standings | League Contact
Body Zone Sports and Wellness Complex hosts several adult ice hockey leagues on our two NHL-size rinks, with multiple locker rooms, scoreboards and ample room for spectators.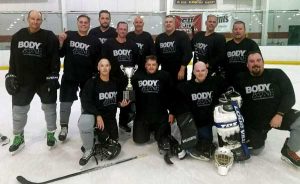 Body Zone's Adult 35+ Ice Hockey League started when some local hockey lovers banded together to form a team for those who share the love of the sport, and the same agility levels out on the ice. Competitive rivalries are a thing of the past in this laid-back league. You'll enjoy the physical fitness aspect of playing a sport while simply having a good time. Dust off your skates and jump right in!
---
Upcoming League Registration
35+ League

Session Dates TBD

Registration Deadline:
Still accepting registrations
Start Date:
TBD
New Player Evaluations:
TBD
Game Days:
Tuesdays & Thursdays
*Games are slated to be held on Tuesdays & Thursdays, but alternate days may be needed depending on number of teams participating in the league
Cost:
$375.00 per player
*Only full payments will be accepted, no deposits or payment plans
*Individual registration only, no team registrations will be accepted
Your Cost Includes:
16 regular season games, double elimination style playoffs, team jersey
*Each player will be responsible to pay scorekeeper fees at the rate of $2.00 per player per game, these fees are paid directly to the scorekeeper.
Register
---
Adult Ice Hockey League Details: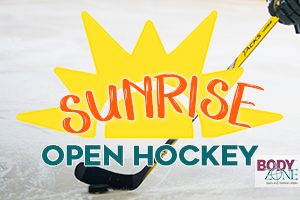 Body Zone league management will coordinate teams based on new and returning players skill levels and will inform all participants of their team placement and league schedule
Playoff game days will/may vary, and will be determined more extensively upon completion on the regular season
Proof of individual USA Hockey Membership is required to participate in the league, and must be given to Body Zone league management prior to the first game of the season.
All schedules, individual and team stats will be kept accurately on our website (bodyzonesports.com)
Each player is responsible to pay scorekeeper fees at the rate of $2.00 per player per game, these fees are paid directly to the scorekeeper.
League Amenities
Online schedule, scores and standings
Scoreboard and clock operator
Team awards for champions
---
Adult Ice Hockey League Schedules & Standings
Fall/Winter 2019-20 35+ Ice Hockey League
2019-20 Leagues
2019-20 Adult Ice Hockey League B Division
2019-20 Adult Ice Hockey League C Division
2019-20 MDL Sponsored By All Temp Enterprises
16th Annual Spring Tournament (March 2020)
Atlantic Division
Pacific Division
A Division
---
For More Information, Contact:
Jason Bowman
Director of Sports, Ice & Youth Programs
610-376-2100 x 236