Rock Steady Boxing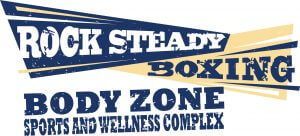 Body Zone is a proud affiliate of Rock Steady Boxing. Rock Steady Boxing is an international, non-contact boxing inspired fitness program for people diagnosed with Parkinson's disease. Medical experts credit this type of exercise program, forced and intense exercise, with the ability to reduce, delay and even relieve many of the symptoms experienced by people affected by Parkinson's disease. The goal of Rock Steady Boxing at Body Zone? To be an embracing and welcoming community that empowers and supports our Parkinson's community through movement, exercise and access to our wellness programs.
---
What Is it And Why Boxing?
Rock Steady Boxing was designed just for people with Parkinson's disease. Published research shows that more than many drugs or other traditional therapies, training like a boxer, with its high intensity movements and punches keeps symptoms in check and improves the quality of daily life for those with the disease.
Rock Steady Boxing at Body Zone consists of weekly group exercise classes that address the symptoms of Parkinson's. Classes are comprised of the following: a 20- to 30-minute warm up followed by a 30- to 45-minute boxing inspired/circuit training program and ending with a cool down. Exercises focus on movements and actions such as: footwork, agility, quick punches, up and downs, vocal exercises and many more functional movements — all designed to improve common physical issues that people with Parkinson's often experience such as stiffness, freezing movements, balance and core issues and others.
Classes are held in Body Zone's Blue Studio — a private space dedicated to and customized for Rock Steady Boxing programs. Elevator access to the 2nd floor is located on our main level.
---
Get Started!
1. Learn more about the program today and/or observe a class in action by contacting Jason Kelly / 610-376-2100.
2. Sign up for the program. Participants and a loved one or caregiver become members of our wellness community and receive full Body Zone fitness and aquatics membership along with unlimited access to Rock Steady Boxing classes.
3. Complete a 45- to 90-minute in-person evaluation with a Body Zone Rock Steady Boxing coach. This is a mandatory step for all participants and is necessary for class placement too.
4. Begin participating in unlimited classes! The schedule is listed below.
---
Class Schedule
Please note: Your level is assigned after your evaluation.

---
Meet The Coaching Team
Specially-trained coaches are members of Body Zone's professional fitness team and have certifications from Rock Steady Boxing and other highly accredited sports medicine and personal training entities. Learn more about our Rock Steady coaching team — click their names below to read their bio's.
Melissa Figura
Michelle Harris
Jason Kelly
Stephen Kupetz
Andre Lockhart
Dan Plummer, Certified Rock Steady Boxing coach and group fitness instructor
Lauren Ressler, Certified Rock Steady Boxing coach and group fitness instructor
Sarah Vecchio
---
Class Participants And Their Cornerman Get Full Access To Body Zone's Fitness And Aquatics Centers And Body Zone Physical Therapy
Power up your Rock Steady Boxing class experience with a dip in our pool or hydrotherapy pool, Tai Chi class or walk around our indoor 1/10 mile suspended track. These options plus so much more await you FOR FREE when you participate in Rock Steady Boxing at Body Zone. We'll activate your membership as soon as you register for class and extend a 90-day membership to a family member or caregiver too. Learn more about your benefits of full membership and facility highlights HERE.
---
With You All The Way
From your class experience to your membership experience, we'll be there for you. Your Body Zone Rock Steady Boxing coaches, Body Zone Member Advisors and members of our fitness and physical therapy team are always available to provide support and answer questions.
---
Become A Volunteer!
We are seeking volunteers to work with our Rock Steady Boxing participants by helping them get stronger and feel better. Volunteers will support all aspects of classes from set up and breakdown to providing exercise assistance and more. Contact Jason Kelly to join us! And get started right away, download and complete a volunteer application under "Forms" below.
---
Rock Steady Boxing at Body Zone — In The News
[Channel 69 WFMZ News]. (2019, January 15). New program at Body Zone aims to help those with Parkinson's disease. Click to watch.
Deiner, Courtney. "Boxing class takes a swing at Parkinson's" Reading Eagle. Web. 7 Feb. 2019.
[BCTV.org]. (2019, May 9). Rock Steady Boxing at Body Zone. Click to watch.
---
Contact Us!
For more information about Rock Steady Boxing at Body Zone, please contact:
Jason Kelly
Director of Wellness
NASM Certified Personal Trainer
Certified Rock Steady Boxing Coach
610-376-2100
---
Forms