Weigh To Wellness Trim Down
Get Support. Move More. Lose Weight. Feel Better!
---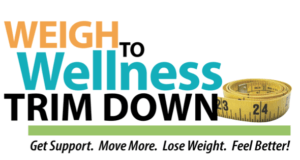 Interested in losing weight and feeling better? Want to get back to a healthy lifestyle and focus on you? Join Body Zone's Weigh To Wellness Trim Down, a six-week motivating, supervised and supportive group wellness program organized and led by Body Zone's team of fitness and health experts.
You'll benefit from Weigh To Wellness Trim Down if:
Your current workout and weight loss regimen aren't working and you need that extra boost.
You need a health reset or because you are engaging in eating and exercise habits that are putting or keeping you at risk for disease and illness.
You have been told by your physician to lose weight.
You have Type 2 Diabetes.
You are preparing for orthopedic surgery and have been told to lose weight.
You're looking for improved mental wellness
---
The six-week Weigh To Wellness Trim Down program includes:
17 customized group training classes.
Nutrition education and support through private and group opportunities.
Tracking and feedback via InBody body composition screenings and MYZONE heart-rate performance technology.
Group training class times that fit your busy schedule. Groups meet at 12:15 pm or 5:45 pm.
Six-week membership (for non-members) to Body Zone's fitness center and discounted access to aquatics programs, personal training and Body Zone's new REP ROOM HIIT Studio.
Accountability partnerships with our fitness team (Coaches, Certified Trainers, Member Advisors).
---
Body Zone provides the support, education, programming and tools so participants are:
Empowered from the start!
Even before the program begins you'll meet our Weigh To Wellness Trim Down team including certified Body Zone trainers/coaches and Member Advisors responsible for an excellent member experience to learn how the program works and how to make positive change happen.
Always supported and informed!
Accountability partnerships with our training team along with empowering nutrition education and support will be a major source of encouragement and help keep you inspired, having fun and on track.
Moving right away!
Customized Weigh To Wellness Trim Down small group training classes led by our certified training team are the heart of the program. Classes are for program participants only and will be offered Mondays, Wednesdays and Fridays at midday and evening times to accommodate your busy lifestyle. Every class will be different and will aim to improve your strength, flexibility and overall well-being.
Tracking from the start!
InBody body composition screenings at the beginning, midway and end of the program along with free use of an MYZONE heart rate monitor (with real-time feedback via monitors all over Body Zone's fitness areas and the MYZONE app) will give you and our team the feedback we need to keep you on track and crushing goals.
Feeling the perks!
Non-members get a free six-week membership to Body Zone's fitness center and discounted access to aquatics programs and personal training services.
---
Fees

---
Get Started Now! Complete These Two Steps:
Step #1. Register using Body Zone's new Online Portal — click here.

After you register for the first time, go mobile! Get our Body Zone app for easy future registrations. Learn more about our app here.
AND
Step #2. Complete our "Weigh To Wellness Trim Down" program commitment and history form here. We want to know more about your goals and needs so we are prepared for you.
---
For more information, please contact:
Jason Kelly
Director of Wellness
jkelly@bodyzonesports.com