April Member Spotlight: Tori Johnson
Tori Johnson is a happy, healthy, funny, Deaf-Blind teenager and 10th grader at Fleetwood High School. When she isn't swimming or making models, you'll find her shopping and very active in the All Abilities Fitness Program and Deaf-Blind community.

Tori's family joined Body Zone in 2017 shortly after Tori began private swim lessons with BZ Swim Instructor Amanda Latshaw and it became clear how much she loved it.

Outside of the Deaf-Blind community and school, it's difficult for Tori to find activities in which she can freely participate and engage with peers, without physical or communication barriers. Amanda, who is also a Licensed Social Worker and Play Therapist at FairView Counseling and The Play Therapy Center is fluent in American Sign Language and has given Tori the opportunity to learn how to swim, have a "typical" experience without barriers and feel just like her peers.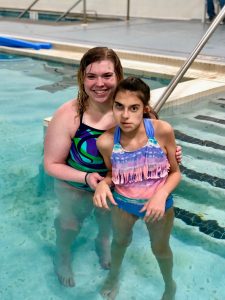 Being legally deaf and blind makes swimming very challenging for Tori. She has poor depth perception making it very difficult to judge where it is safe to stand, jump in, and locate people, walls and objects around her. Tori also struggles with motor control, so coordinating her arms, legs and breathing for each of the various strokes has been a huge challenge. However, with some creativity and persistence from both Amanda and Tori, Tori has become unstoppable.

Tori skills quickly grew from knowing basic doggie paddle to being able to lap swim freestyle, backstroke, elementary backstroke and breaststroke. Tori also overcame the challenges of swimming where she couldn't stand or see the bottom, jumping in and bilateral breathing.

Amanda has a technique for every skill, "I taught Tori to locate objects and determine its depth by touching it and placing it in front of her feet. Then she is able to go under water and retrieve the object with her hands. She's mastered this skill and we are now using it as a starting point for swimming under water." Amanda also uses American Sign Language to communicate during lessons by signing to her under the water or right above her when she is swimming backstroke. Tori can answer her without breaking rhythm or disrupting her breathing.

"We instantly developed a close partnership and trust in one another because we are able to communicate without limitations or help from mom and dad," says Amanda. "Our swim lessons may look non-traditional but they are very successful. Look at what she has accomplished."

Tori's endurance and strength has improved tremendously, and she now prefers to lap swim the entire session. However, Tori's newest achievement is diving into the deep end of pool to start her laps.

Amanda is a proud coach and mentor, "Tori is a determined, brave and sassy teenager, nothing stands in her way, not even diving into the deep end. She faces many challenges not typically considered when learning how to swim but that's never stopped her from trying and succeeding with every new skill."

Tori is a proud and empowered student! Her numerous goals include continuing to build her swimming skills and self-awareness. But more importantly, thanks to Amanda, she's feels like she like she's a part of our family and community — just a typical teenager making great waves in the pool and in life.