May Member Spotlight: Dee Salyards
In Dee's words:
"Since my Parkinson's disease diagnosis in 2015, I have been through several therapy sessions but the Rock Steady Boxing program at Body Zone has been of great benefit to me. I was having trouble with my balance and falling backwards before participating in Body Zone's new program. Now I feel better about myself, feel much stronger and I laugh more. Rock Steady Boxing has given back my confidence and the will to fight on!"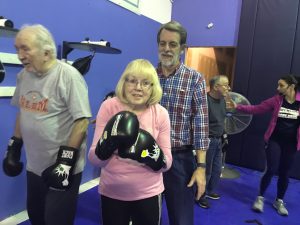 We are in awe of Dee's progress since she joined our special fitness program for people with Parkinson's disease.
Her Coach and BZ Trainer Emily Gordon, feels the same, "The change I have seen in Dee from her first class three months ago to today is nothing but impressive. She stands taller and is able to move with less and sometimes no assistance. Just three weeks into the program, Dee's husband Art told us she got out of bed on her own — the first time in many years. Her hard work and perseverance is paying off; she moves more freely and with confidence. The continued support of her husband/corner man Art has not only been a blessing to her but the whole class."
Way to go Dee! You are an inspiration to your fellow fighters and your BZ family! In this corner is HOPE!
Learn more about Rock Steady Boxing at Body Zone here.