Maggie's Back In Action!
A two-sport athlete at Albright College, Maggie got her official "return to play" for soccer and swimming after a school year of rehabbing at Body Zone Physical Therapy.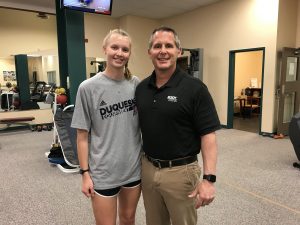 Maggie didn't expect her sophomore year to begin with a season-ending torn ACL. Surgery to her ACL and meniscus happened immediately followed by an entire school year of physical therapy with Dr. Randy Yocum at Body Zone.
From simply regaining correct walking form to building full body strength, Maggie and Dr. Yocum developed a plan of action to help her ditch the crutches and begin her recovery with full access to Body Zone's fitness offerings and the team at Body Zone Physical Therapy by her side.
Read Maggie's full story of recovery here >>