September Member Spotlight: Bernice Robinson-Bennett
Like most people stuck in a fitness rut, Body Zone member Bernice Robinson-Bennett was having trouble seeing results even with a consistent workout routine.
The 45-year-old mother of two had always made an active lifestyle a priority of hers. She joined BZ in 2015 after bringing her children to swim lessons for three years prior, but she just wasn't seeing a lift in overall fitness with the cardio she was doing day in and day out.
"I have been an avid fitness tracker using the Fitbit platform since 2016. Though I met my targets almost every day and was mindful of portions, I realized that I was stuck," she told us. "In May 2018, I had an epiphany — why not get a personal trainer?"
Bernice was looking for a catalyst — something to keep her motivated — and she found just that in twice-weekly sessions with BZ Personal Trainer Andre Lockhart
Andre works with Bernice to improve endurance, lose fat, build muscle and — perhaps most important — "keep with [her] children." In adding strength and high-intensity interval training to her old cardio regimen, Bernice has seen remarkable improvements.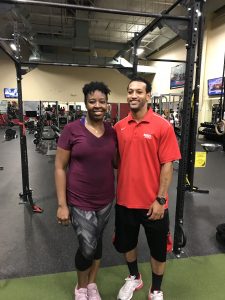 "Working with Andre has made all the difference in the world. Accountability is key. I actually confessed that my scale was not broken, I was just at a major plateau," she said. Andre gives her the tools on non-training session days to bolster her strength and endurance, too. She works out six-seven times a week, and there's always variety in what she does. In breaking down her self-described plateau with Andre's expertise and planning, she's virtually eliminated the "I can't" from her sessions because she has the confidence to do exercises she previously had never done.
She's also loving Body Zone's new wellness resources: MYZONE heart rate technology and InBody Body Composition screening. "The MYZONE belt is a definite game changer for me for my individual workout sessions without Andre. The device/ technology makes every session for me count. I'm no longer just going through the motions to acquire minutes and steps. Now I am after maximizing effort and getting through heart rate zones that count," she says.  And after two months of training with Andre, a follow-up InBody screening revealed that she gained four pounds of muscle and lost nine pounds of fat.
Bernice's biggest take away from her successful change in workout routine? Take up a trainer, and go for it — even if for a limited time.
"One will notice the difference in energy, strength and agility almost immediately, guaranteed," she said. "Find the trainer that is right for you and then trust that person and have fun along the way."