"I Exercise With MYZONE For Quality of Life"
Meet Steve Essig: Body Zone's MYZONE Member of the Month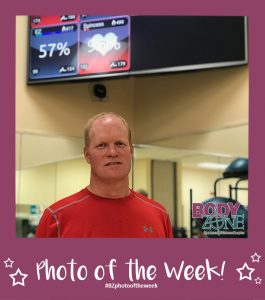 We love hearing from our inspiring members and caught up with Steve Essig, member since 2007, to learn more about his fitness journey, commitment to health and his experience with our new MYZONE group heart rate tracking technology (notice all the monitors and flashing tiles on our 2nd floor?). He and his wife, Teri, are celebrating 30 years of marriage this year. They have four adult children … still waiting on grandchildren! Recognize him? Maybe it's because he's the face of Essig Plumbing & Heating. Outside of work, he stays active on his farm raising sheep, going to Penn State football games and keeping up with his kids.
Our conversation with Steve …
When and why did you join BZ?
About 10 years ago I was receiving physical therapy at Body Zone for the third time for reoccurring back and shoulder issues. My body was breaking down all the time. At the end of the treatment, Dr. Randy Yocum, director of Body Zone Physical Therapy, encouraged me to give the gym a try for ongoing therapy and quality of life. I never had a gym membership in my life anywhere.
Over the last 10 years I have become a believer in the healing power of regular exercise. For me, the group training classes have given me my life back. Low impact classes like BODYPUMP, cycling and core related classes have worked best for me. In addition to two-four workouts a week, I also enjoy running one to two times per week. I don't remember the last time I needed physical therapy or went to the chiropractor!
When did you become a MYZONE user at Body Zone?
For the past year I have been working out with a fit watch. However, this past fall I gave MYZONE group heart rate tracking at Body Zone try. Before MYZONE, I had little understanding of the value of working out with proper heart rate monitoring and effort points. MYZONE has definitely helped me increase the intensity of the group classes through setting personal goals as well as keeping the heart rate within the same level as the professional trainers as viewed on the monitor screens in the class. I am also motivated to work out a few more times a month through the MYZONE-based challenges offered by BZ.
How has MYZONE impacted your workouts? Do you use it outside of BZ?
In addition to gym workouts, I'll use MYZONE for running, hiking and other high intensity outdoor activity. At this stage of life, it just makes sense to fully understand the intensity of a healthy workout with MYZONE. As for my future fitness goals, I will continue to exercise with MYZONE for quality of life … it works!