February Member Spotlight: Charlie Dvorscak
Prior to joining Body Zone in 2013, Charlie Dvorscak was a few years out of retirement from his tenured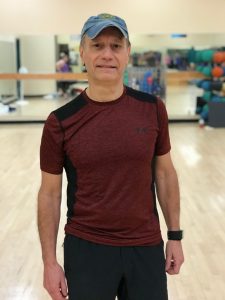 career at PPL Corporation and wanted to begin exercising in earnest — getting back in to shape and seeking wellness after years of not being able to consistently work out. He was inspired to commit to his health after his final company physical revealed he had the onset of coronary heart disease. His transformation from a sedentary to an active lifestyle was something he "took to heart – quite literally."
On top of the discovery of his heart condition, travel, a long commute and inflexible hours made it tough for him to commit to a focused routine. As a retiree, Charlie surveyed plenty of other local gyms, but didn't find his ideal fit until he walked in to Body Zone – and had a wealth of group class options, a pool and a track at his disposal.
From there, Charlie solidified his routine, and got to work. When the weather allows, he enjoys going on runs or biking outdoors, but in bad weather or when he needs a lift from the norm, Charlie takes advantage of a variety of Body Zone group fitness classes that inspire and fuel his commitment to healthy living and race training. He's a big fan of Bootcamp with Melissa, BODYATTACK, BODYCOMBAT, cycling classes (he loves our new SPRINT – HIIT on a bike class) and Bosu Bootcamp, and he tries to swim at least once or twice a week in our pool too.
"I really enjoy participating in the group classes," Charlie told us. "Not only do you get to meet new people who share similar exercise goals, but, for me, I just feel more engaged and motivated to exercise when with others in a group environment. And I truly believe that the BZ instructors are some of the best in the area; I find them well-trained, well-prepared, motivated, and responsive to members."
As Charlie enjoys his combination of outdoor bikes and runs, and swimming and taking group classes
indoors, he also keeps himself laser-focused on his goals. Charlie's goal is to maintain the current level of fitness he has today as he ages. He knows there are limitations as he gets older, but he wants to strive to keep those limitations at a minimum. The 67-year-old has, in fact, lost over 40 pounds since his last company physical before retiring, and shows no intent on stopping his heart-healthy pursuits.
When he needs extra motivation, he uses competitive events like running and triathlon events, as the spark to increase his fitness level and performance. "There is nothing more motivating than that approaching race date circled on your calendar."
His best advice to others who need inspiration, or may be stuck in a rut when it comes to health and wellness? Spice things up. "Simply find an activity you enjoy doing and go do it," he says. "If you find that your current fitness regimen has become just plain drudgery, try something else. The options are plentiful and range from A to Zumba."