Member Spotlight: Gale Terek
We're thrilled to partner with Country Meadows Retirement Communities to bring you our newest member spotlight.
---
Who's having fun and staying fit at Body Zone? Meet Gale Terek!

Because we are so proud of our inspiring fitness community, we love to discover what makes certain members tick especially Gale who shows us that staying consistent with her fitness really pays off and a simple smile and caring hello go a long way in making a fellow member's day. Learn more about Gale Terek, in her own words:
I've been a member of Body Zone for about 10 years. I've always wanted to be fit and healthy. There have been times in my life when I didn't put my exercise first — mostly while I was raising my son. During times of little exercise, I realize that I need exercise as much for my brain as I do for my body. If I don't exercise, I tend to feel depressed. One hour of exercise and I'm feeling great again!
During my years at Body Zone, I've done a variety of classes, core strengthening classes and yoga in particular. For the past couple of years, I've been spending most of my time in the weight room in the center part of the gym. I feel using free weights and machines has given me quick results. I feel fit and strong for my age. I used to have frequent back and neck issues which have definitely decreased as I have been strengthening those muscles over time. Outside of Body Zone I love to walk, do yoga occasionally at home, and golf. I love being out in the fresh air.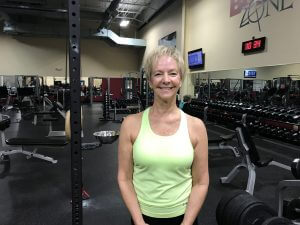 Fitness at Body Zone has been a lot of fun for me. I've made so many friends there. When I started my membership, I found everyone to be so friendly in the classes I attended. One friendship actually led me to join a ladies golf league.
Now I at least say hello to most everyone and have made a lot of lasting friendships. O also happen to know many of the people I worked with over my 35 years at GPU/First Energy. For me, that personal interaction truly also lends to a healthier attitude toward life.
Outside of the gym, I golf, I like to write poetry, spend time with children and grandchildren, travel and spend some of my time volunteering. I do things such as drive people to doctor appointments, deliver meals for West Lawn United Methodist Church, and help with Rock Steady Boxing at Body Zone. Rock Steady Boxing is a fitness program designed specifically for Parkinson's patients. It helps build and/or regain their agility, balance, muscular endurance, hand/eye coordination, overall strength, etc. while incorporating various exercises and boxing. Not only is this program great for their physical/mental capacity, but the friendship and camaraderie I witness is so joyful for them as well as for us volunteers and trainers. I feel so much connection and caring for everyone involved. It's my favorite volunteer activity ever. We're all one here!
Thanks to Country Meadows Retirement Communities we'll be celebrating Body Zone's "Fit after 50" members all year long! They'll be recognized for their commitment to fitness while spreading kindness and joy to others. As a special bonus, Country Meadows will be honoring them with a $25 BZ Bucks gift card too.