Keeping Up With Ike & Dawn: Project You Weeks #2 and #3
This past summer, we invited our membership to apply for an exclusive spot in our Project You! personal training intensive. The objective? To take six members through a special fitness journey in just four weeks under the guidance of Director of Fitness Sarah Vecchio and Assistant Director of Fitness Dave Moseley — our very best health and fitness experts.  Project You! kicked off this past week and all six have embraced the program with different goals and expectations from losing weight to getting stronger, becoming more aware of their bodies and self-care to simply learning how to workout in different ways for different results. We are so proud of this group! In case you're wondering what it's all about, we asked two participants, Ike Shibley and Dawn Sarig, to recap their journey for us. Follow along for tips, inspiration and a glimpse at what it takes to spark change and try something new.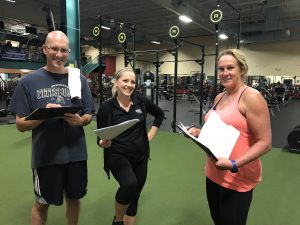 Project You!  Ike and Dawn's "Get Started" Checklist
✔ Pre-program InBody body composition screening
✔ One-on-one health and nutrition assessment with Dave or Sarah
✔ Jump start group meeting
✔ Myzone heart rate wearable assigned
✔ Myzone app interactive group chat live and ready
✔ Daily check ins with Sarah and Dave via Myzone app
✔ Workouts Of The Day (WOD) assigned
Project You! Week #2
Ike:
"I had another good week on Project You. I started the week by doing cardio and then doing the same weight workout that Sarah designed for my wife, Maureen.
I did SPRINT again on Tuesday — I really love that class! 30 minutes, 500 calories, almost into the red heart rate zone on MyZone. Dawn was in class with me. I am sweating profusely by about 10 minutes into the class. HIIT has a lot worth recommending.
Wednesday was the first WOD, also fun. Lindsay introduced herself to me which made me feel even more connected to BZ. She encouraged me by telling me that I was "killing it." Nice. I completed five cycles of the WOD. I did find out from Sarah that I did the Burpee slightly wrong. I did push-ups instead of putting my chest to the floor. I'm learning…
Thursday was upper body strength and cardio. I'll do the second WOD on Saturday and may have to do lower body weights on Monday (I guess my trainers will now know this!)
Another fun, productive week. I like that I have not slowed down by the end of the second week. I am looking forward to turning my progress at the end of four weeks."
Dawn:
"This past week was great! On Monday I did Sarah's WOD. I am enjoying doing these because I have never done them and always wanted to. They are challenging me to try something new and they are for sure getting my heart rate in the blue and green Myzone heart rate zone. Tuesday was all about SPRINT class and my weight workouts. I attended the nutrition class which I enjoyed and learned a few things. On Wednesday, I went to gym at 5:30 AM before work to do Dave's WOD again. I am loving these workouts — they are making go out of my comfort zone. I will enjoy my cardio days this week running at the beach. I am enjoying this challenge and loving that I can do my workouts when it best fits in with my lifestyle. Thanks again for picking me! Can't wait for week three!"
Project You! Week #3
Ike:
"I worked out every single day this week. I am currently on a 10-mile hike. I should have mentioned earlier that on the weekends I tend to walk about 20,000 steps. I have a dog that needs exercise so we hike around Neversink Mountain, Blue Marsh lake, and French Creek State Park. I never really take a day off from exercise but wearing the fitness tracker showed me that my heart rate doesn't get up high. My MyZone heart rate tracking device stays in the gray.
I tend to stay in the gray Myzone heart rate zone when I do cardio also. I am not sure if that means that my heart is in pretty good shape or if I am not working hard enough or maybe a combination of both. One of the main lessons I'm learning from "Project You" is that I need to push myself hard if I want to get into the yellow Myzone heart rate zone. SPRINT class has been the best way for me to elevate my heart rate, but dynamic exercises such as burpees, jump rope, and running on the track also work.
The strength exercises have always been part of my fitness routine and I am enjoying those a lot. I am learning that there is a difference between power and strength from the HIIT class. I like the WODs more than I expected. They have that HIIT feel.
I do not think that I am turning into a gym rat because I do like to get in, get out, and get on with the rest of my life. I do think that the gym has become much more a part of my every day routine over the last three weeks. My hope is that I can use this momentum to keep up my almost daily gym visits.
Next week is the last official week of "Project You." I am trying to keep realistic expectations for what my percent body fat will be. I do feel more fit, and more trim. So no matter what the body fat says I at least feel better about myself. That goes along way and I can thank Sarah, Dave and really everyone at Body Zone for that."
Dawn:
"I am enjoying the push to work out six days per week. I am loving the WOD's. They push me out of my comfort zone and are super challenging. I must say I feel good about myself. Looking forward to week four!"