Flag Football Leagues
Need A Place To Play Football?
QUICK LINKS: Registration | Details | Schedules & Standings | League Contact
Body Zone offers 7v7 adult flag football leagues year-round on our state of the art turf fields. Play football in Berks County's largest, most-used and only multi-field indoor facility.
---
7v7 Adult Flag Football League Registration
Fall 2019

Registration Deadline: September 10, 2019


Men ages 18+, 7v7
Eight games plus playoffs for top four teams
Dates:
Saturdays: 9/21, 9/28, 10/5, 10/12, 10/19, 10/26, 11/2, 11/9 for bye week or playoffs. 11/16 for playoffs if needed.
Cost:
$550/team plus referee fees ($30 per game/team payable to refs prior to kickoff at each game, Body Zone pays ref fees for playoffs)

Please contact Doug Miller to register.
---
Adult Flag Football League Details:
Mandatory Captain & Player Procedures
After a team registers, captains receive a confirmation email with instructions to complete an online team roster and individual online player waivers. This must be completed for renewing teams/players too.
All players must complete a Body Zone online liability waiver prior to the first game — this is mandatory. This must be completed for renewing teams/players too. Contact Doug Miller or your team captain if you did not receive the online waiver link from Services@ezfacility.com or your captain.
League Tools
League Amenities
Our fields feature permanent sidelines, goal lines and hash marks. Check out a photo of our fields in the gallery to the right on desktop or below on mobile.
Online schedule, scores and standings
Scoreboard and clock operator
Team awards for champions
Reschedule Fees
$25 by team initiating the change. Must be requested 48 hours or more prior to the game and paid before next game. Changes within 48 hours result in a forfeit and that team having to pay ref fees for both teams for the cancelled game.
---
Schedules and Standings
---
Adult Flag Football League Contact: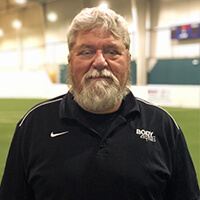 Doug Miller
Assistant Director of Sports
610-376-2100 x 453