Member Spotlight: Kim Kohl
Because we are so proud of our fitness community, we like to find out more about what makes certain members tick especially Kim, who inspires us with her workout consistency, positive attitude, active lifestyle and super-charged fitness and sports goals all while living with cancer for the past 15 years. Learn more about Kim, in her own empowering words, below.
What are your fitness goals?
To stay as active and healthy as possible while able to participate in my activities which include biking, swimming (open water and US masters swimming), coaching (Berks County Special Olympic Swimming) and competing in aquabike events (swim, bike minus the run- swim, run, done). I also enjoy spending time with my French Bulldog Brewster.
The most unique activities I experienced thus far in life include climbing the Comcast stairs in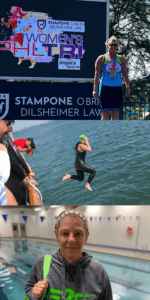 Philadelphia for Leukemia Lymphoma Society Big Philly Climb and swimming 10 miles in the Boston Harbor for Swim Across America (swim event to raise money for a local cancer hospital — Dana Farber).
In the last year I have competed nationwide in open water swims in Connecticut, Pennsylvania and Florida and the Women's Philly Tri with podium finishes in all events participated.
What is your biggest fitness challenge so far?
Most people are surprised to know I have cancer, Non Hodgkins Lymphoma. I have been battling this horrific disease for 15 years. I have had numerous operations and various treatments and radiation throughout the years. The various treatments I have endured has left my body weakened and lacking a few organs; which interferes with my nutritional needs of my body especially during training and competing. Within the last year, I have become endorsed as a triathlete/open water swimmer by F2C nutrition (company based in BC Canada) which has products that have helped me tremendously by maintaining my bodies nutritional needs especially during training. I no longer need to get IV supplement nutrition weekly which has help me tremendously physically and mentally.
What is your greatest fitness achievement to date?
Being able to stay active, train and compete while living with cancer.
What is your fitness and lifestyle advice for others? Please share what is working for you — it may help others too!
My advise to others is to live life to the fullest; live each day like it's your last. Live, love and most importantly laugh. Don't sweat the small stuff. Focus on what you can do, not what you can't. You may not be able to do things you once did for various reasons/circumstances, but there will always be something you CAN do. No matter your physical abilities (or lack thereof), there are people out there in the same circumstances or worse, you are not alone and you can do ANYTHING you put your mind too. Overcoming your fear and stepping outside of your comfort zone will be well worth the experience. One last point. You can never get time back, so don't procrastinate any dreams or goals, because you don't want any regrets! Best wishes and hope to see you at the gym.
1 Reply to "Member Spotlight: Kim Kohl"
Tammy Casantini

May 19, 2023 (8:04 PM)

Kim, I'm inspired by your determination, your positivity, and your accomplishments! We all love you and are inspired by you! Keep doing all you do all while enjoying every moment! You are a force to be reckoned with! Love you! ♥️
---