Community Wellness Programs
Wellness begins with making the commitment to live a healthy lifestyle. Body Zone will help you every step of the way with a variety of programs and classes for individuals and groups many of which are open to the public. Not a member? Experience our fitness and aquatics centers with our free 7-Day Pass!
---
Quick Links:
The Art of Aging: Navigating the Change of Menopause (Free Lunch & Learn)
Spine Pain: Evaluation and Care (Free Lunch & Learn)
Personal Training 101: Test Drive A Trainer for Free
Complimentary Blood Pressure Screening
---
The Art of Aging: Navigating the Change of Menopause
A Free Lunch & Learn Event by Penn State Health St. Joseph
Dr. Kissling believes it's vital for all women to have an understanding of menopause and how it may impact their lives. Join her to learn more about this important topic for all women. She'll discuss the natural changes occurring during menopause along with the different treatment options to help symptoms. Differences among women are very common, and understanding the possibilities, including maintaining a healthy lifestyle, can help you understand your body during this period of change.
| | |
| --- | --- |
| Date/Time: | Thursday, November 21, 2019 / 12:00 PM |
| Fee: | Free for Body Zone's adult members |
| Location: | Body Zone's main level meeting room |
| Register: | We are sorry, registration is closed. |
About Jessika Kissling, MD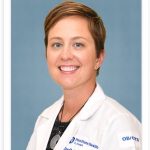 Jessika M. Kissling, MD, is a member of the St. Joseph Medical Group and specializes in gynecology, obstetrics and gynecology, robotic-assisted surgery. She earned her undergraduate degree at The George Washington University and earned her medical degree from Drexel University College of Medicine. She joins Penn State Health St. Joseph from the Lancaster Physicians for Women medical group. She completed her residency in Obstetrics and Gynecology at the Reading Hospital and Medical Center. She is board-certified in Obstetrics and Gynecology and is a Fellow of the American Congress of Obstetricians and Gynecologists.
---
Spine Pain: Evaluation and Care
A Free Lunch & Learn Event by Penn State Health St. Joseph
Neck and back pain are extremely common problems that nearly all of us experience whether occasional or persistent, mild or disabling. Join Dr. Weaver, cerebrovascular neurosurgeon with more than 27 years of experience, to learn more about common spine problems and related evaluations and treatments that may be recommended.
| | |
| --- | --- |
| Date/Time: | Thursday, December 19, 2019 / 12:00 PM |
| For: | A free event for Body Zone Members only |
| Location: | Body Zone's main level meeting room |
| Register: | Register by December 16 by emailing learn@bodyzonesports.com or call Body Zone Guest Services at 610-376-2100 |
About John Weaver, MD
Dr. Weaver came to Penn State Health St. Joseph from the University of Massachusetts-Memorial Medical Center and the University of Massachusetts Medical School in Worcester, MA., where he served as a member of the Division of Neurosurgery's medical staff since 1992. Dr. Weaver earned his medical degree from the University of Texas Medical Branch in Galveston, TX, and completed his residency in neurological surgery at the Medical College of Virginia in Richmond, VA.
With more than 27 years of experience as a cerebrovascular neurosurgeon, Dr. Weaver also specializes in minimally invasive and complex spine, spasticity (Baclofen pumps) and epilepsy surgery. His research interests include inflammation of cerebral aneurysms and imaging to predict aneurysm rupture or stroke.
Dedicated to providing a patient experience that is accessible, efficient and effective, Dr. Weaver offers a patient- and family-centered approach to care. When he isn't working, he can be found cycling, fishing, hiking or playing the piano.
---
Personal Training 101
Free Member Program
What is it?
Free 50-minute demo workout with a Body Zone Personal Trainer for all fitness levels
For:
Members new to personal training
Why?
Learn more about why personal training makes a difference by jumping right into a workout with a BZ Trainer! Training sessions are always customized to meet the needs of clients, but enjoy a free session that includes a typical workout: dynamic warm up, exercise instruction, balance, core, strength and cardio work, mobility exercises (foam rolling, stretching etc). One demo workout per member.
When:
NOVEMBER DATES:
November 20 at 9:00 AM
DECEMBER DATES:
December 4 at 11:00 AM with Kyle Worrell
December 10 at 6:00 PM with Andre Lockhart
December 23 at 10:00 AM with Kyle Worrell
Sign up:
Register via sign up sheets located at the 2nd floor Wellness Desk or email Jason Kelly
---
Blood Pressure Screening
A complimentary service for members



High blood pressure is an easy disease to overlook. There are often no visible signs or physical symptoms. Because of this, it's important to have your blood pressure checked and tracked on a regular basis.
---
Did you know? Body Zone Sports and Wellness Complex is a National Association of Sports Medicine (NASM) and Athletics and Fitness Association of America (AFAA) preferred facility. Partnership benefits for our staff and potential staff and members are numerous and offer preferred pricing, workshop discounts and more. Contact Jason Kelly to learn more.