Instructional Adult Ice Hockey
Learn To Play Ice Hockey
Body Zone Sports and Wellness Complex hosts several adult ice hockey programs on our two NHL-size rinks, with multiple locker rooms, scoreboards and ample room for spectators. Our instructional adult ice hockey program is designed to teach new adult players the skills that are necessary to play ice hockey at a competitive level, and to help beginner players improve their game. Learn from PSU Berks Head Ice Hockey Coach, Larry Barretta.
Become a part of Body Zone's amazing ice hockey community! Already a skilled player? Check out our Adult Ice Hockey Leagues.
---
QUICK LINKS: Registration | Important Details | Schedule | Adult Ice Hockey Leagues | Contact
---
Upcoming Program Registration
Check back for future details!
---
Instructional Adult Ice Hockey Program Details:
This program is for new and/or beginner hockey players ages 18+.
Full equipment is required!
Each session will consist of hockey skating, stick handling and shooting drills.
Learn about offensive and defensive positioning, and participate in even-sided scrimmage games.
---
Current Instructional Adult Ice Hockey Program Schedule
Summer 2018
Summer 2018
8 week program
Days/Dates:
Sundays – 7/8, 7/15, 7/22, 7/29, 8/5, 8/12, 8/19, 8/26
Time:
8:00 – 9:30 PM
---
For More Information, Contact:
Larry Barretta Jr.
Instructor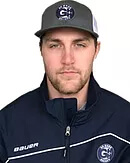 Larry Barretta Jr. is the founder and owner of Go Hard Hockey. Larry played youth hockey in the DVHL for many different clubs and finished his career at Penn State Berks ACHA Divison 1. At Penn State Berks Larry was named to the ACHA Men's All-Start team, ECHA first team all conference, and left the program as the all-time leading scorer. Larry is a USA Hockey level four certified coach and has been coaching youth hockey since 2012. His coaching career began with the Body Zone Learn to Play program and he is currently the Penn State Berks Head Coach, Pottstown Penguins Skills Coach and EPSHL Coaching Director. Larry has been helping players from ages 4-65 develop their hockey skills and increase their love for the sport.