Public Hockey
Offered year-round
QUICK LINKS: Schedule | Sunrise Open Hockey | Important Details | Contact Information
Public Hockey is offered year round, as ice-time permits, allowing anyone from the professional to the novice the ability to hone their hockey skills.
---
Public Hockey – Important Details:
Several time slots are typically offered throughout the week and scheduled here as soon as possible. Times and age groups vary from week to week.
Age groups offered may include: 4-7, 8-12, 13-14, high school, 18+ and 35+.
First two goalies are free.
Helmets are mandatory.
No checking; no fighting.
Adults & High School – $10; Youth – $8
Schedule is subject to change
---
Public Hockey Schedule
Subject to change
Tuesday, February 18
11:30 am-1:30 pm (18+)
Tuesday, February 25
11:30 am-1:30 pm (18+)
---
NEW! Sunrise Open Hockey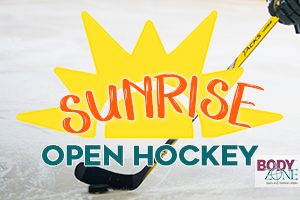 Wake up, grab a cup of coffee and get a game of hockey in before work or class on Tuesdays!
For Adults (18+)
Tuesday mornings from 6:00-7:30 AM
$8.00 per player per 90-minute session. First two goalies are free
FEBRUARY SCHEDULE
Tuesday, February 11
Tuesday, February 18
Tuesday, February 25
---
---
For More Information, Contact:
Jason Bowman
Director of Sports, Ice & Youth Programs
610-376-2100 x 236