Speedskating
Offered most Sundays

QUICK LINKS: Important Details | Schedule | Watch Video | Contact Information
U.S. Olympic speedskater returns to lead instruction at Body Zone
C. Kyle Carr, a short track speedskating athlete for the United States in the 2014 Winter Olympics held in Sochi, Russia, coaches the Sunday instructional program for the East Penn Speedskating Club at Body Zone.
Carr's experience in international competition also includes the U.S. World Cup and Junior World Championship teams for whom he has won numerous medals skating in relay events.
Carr carries on the legacy of Shawn Walb, one of his mentors, who passed away in 2014. Walb discovered Carr as an inline skater and introduced him to speedskating right here at Body Zone. Walb also coached Olympian Allison Baver. Originally from the Reading area, Carr was a student at Governor Mifflin High School at the time. After his junior year he moved away to pursue his dream to become an Olympian.
---
Important Details:
Learn to Speedskate is open to anyone interested in learning the sport while also valuable to experienced skaters. Sessions are conducted by the East Penn Speedskating Club (EPSC).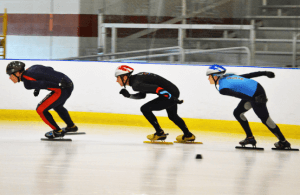 A limited number of speedskate rentals are available at each session. However, while speedskates are helpful they are not required to participate.
All ages are welcome.
Equipment needs: helmet, warm clothing, gloves and soft knee pads.
---
Schedule
Subject to change: Times for this program will vary throughout the year and are based on rink availability.
---

Check it out: "NBC10's Matt DeLucia gives us a look inside East Penn Speed Skating Club, and how their need for speed fuels the competition like that seen on the ice at the Winter Olympics."
---
For more information, contact:
Bill Romanelli
East Penn Speed Skating Club President